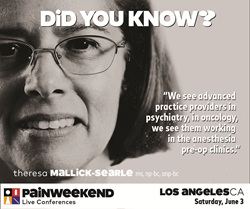 Excellent insights on history and physical exam to making a correct diagnosis and treatment. Enjoyed...presentation immensely"
Montclair, NJ (PRWEB) May 09, 2017
PAINWeekEnd (PWE) on June 3 at the Hyatt Regency Westlake, 880 S. Westlake Blvd., will be an educational and exciting full-day program providing busy clinicians and allied healthcare practitioners with 6.0 hours of relevant, practical instruction in the management of chronic pain.
California has a 1-time requirement of 12 CME credits in pain management and treatment of terminally ill and dying patients, which must be finished before the second license renewal date or within 4 years, whichever occurs first. By attending PAINWeekEnd Los Angeles, participants can enhance their skills in medication risk evaluation and mitigation, pain assessment and diagnosis, and delivery of individualized multimodal treatment.
An attendee of a recent PAINWeekEnd conference said, "Dr. Tennant gave excellent insights on history and physical exam to making a correct diagnosis and treatment. Enjoyed his presentation immensely," about the Chronic Pain Patients Who Fail Standard Treatment: Identification and Strategies course, which will be presented by Dr. Forest Tennant in Los Angeles. Other courses include (and are subject to change) The Role of the Advanced Practice Provider in the Acute Care Setting; Minimizing Pills and Maximizing Skills: Achieving Successful Opioid Cessation in Chronic Pain; Arachnoiditis: Diagnosis and Treatment; Complex Cases in Pain Management; and Interdisciplinary Management of Pelvic Pain: Bridging the Gap Between Primary Care and Specialty Referral.
Commercially supported activities—addressing a range of product, disease state, and medical information topics—will also be presented.
Online registration fee for this PAINWeekEnd Conference: $129. PAINWeekEnd registrants may register for the PAINWeek National Conference, September 5-9, in Las Vegas, for $200 off the current online published price.
PAINWeekEnd is provided by Global Education Group. About Global Education Group:
Global Education Group focuses on producing partnership-based CME for healthcare practitioners. The Global team works with a select group of medical education companies, associations, academic institutions and healthcare facilities to develop and accredit live healthcare conferences and workshops as well as online activities. With each partnership or joint providership, Global brings accreditation expertise, project management excellence and grant funding intelligence. Based in Littleton, Colo., Global has accreditation with commendation from the ACCME. Global also holds accreditations to offer continuing education for nurses, nurse practitioners, pharmacists, dietitians, dentists and psychologists. Global is a division of Ultimate Medical Academy.