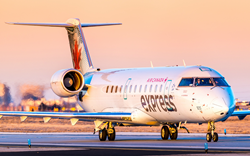 The SOAR program acknowledges not only the need for a stream of lower time pilots for mentor programs but also the need for people to train new pilots who enter the industry.
Mississauga, ON (PRWEB) April 27, 2017
As one of Canada's busiest airlines operating close to 200 flights daily from bases in Toronto and Calgary Air Georgian plays a vital role in providing connecting traffic to Air Canada in support of their growing global network. Air Georgian operates under the brand name of Air Canada Express serving 31 domestic and transborder destinations. With a relationship dating back almost 20 years Air Georgian is the longest serving independent regional partner of Air Canada.
Air Georgian was a pioneer in developing formal aviation mentorship programs in Canada, allowing low-time pilots graduating from select aviation programs an opportunity to develop their skills in a fast-paced regional airline environment. The company also pioneered a cadet program where high achieving candidates entered the program with no aviation experience and enrolled in ab-initio flight training, which led to employment as a first officer at Air Georgian and a conditional offer of employment from Air Canada. Air Georgian continues to be an innovator in providing young aviators opportunities to kick-start their careers so they can fly higher.
The company's latest announcement acknowledges not only the need for a stream of lower time pilots for mentor programs but also the need for people to train new pilots who enter the industry. The agreement announced on April 18, 2017, between Air Georgian and Ottawa Aviation Services (OAS) recognizes the significant contribution flight instructors make in Air Georgian's ability to grow as a company and as an industry. Air Georgian and OAS have developed a program where flight instructors at OAS are given the opportunity for employment at Air Georgian after meeting certain experience and recruitment requirements.
Through its partnership with Air Canada, Air Georgian is part of the Air Canada Pilot Mobility Agreement (PMA). The PMA in place at all Air Canada Express partners guarantees all pilots an interview at Air Canada upon reaching certain experience and seniority requirements. The PMA provides Air Canada up to 80% of their new hires while providing the Express partners predictable and controlled attrition. The PMA provides Express pilots with a distinct formal pathway to Air Canada.
As part of their commitment to career development and mentorship, Air Georgian believes in the importance of highlighting opportunities in aviation before students choose a career path. The company recently partnered with Ready Set Fly, an aviation awareness program designed around engaging high school students and educating them about the many careers available in aviation. Over the past ten years, Air Georgian has also been directly involved with various high schools and guidance counselors raising awareness about our industry and our brand. The company is active in many career fairs each year and continues to advocate for the many rewards of choosing a career in aviation.
Air Georgian is pleased to announce the formalization of efforts under one program. The Air Georgian SOAR program brings together four initiatives:
1) Increase awareness and education at the career decision-making stage;
2) Continue to lead the industry in designing early entry programs through low-time mentorship and apprenticeship agreements;
3) Instructor pathways through our agreement with Ottawa Aviation Services;
4) Direct entry Captain programs currently being developed with various smaller operators.
The program goals are to:
1) Increase awareness around the career opportunities available in aviation;
2) Build solid recruitment programs that bring value to the candidates, their current employer or educational institution and Air Georgian;
3) Create a strong retention program for Air Georgian employees by providing industry-leading career advancement opportunities both internally and at Air Canada.
The SOAR program will anchor Air Georgian's education, recruitment and retention/advancement efforts. Although many of the programs such as the PMA focus on pilots, we parallel many of the initiatives in other disciplines such as maintenance, dispatch and in-flight (Flight Attendants).
Those interested in presenting themselves as a candidate for any part of the SOAR programs should speak to the appropriate person at their school or employer to find out if there is a formal agreement in place. Or, if you would simply like more information about how you can SOAR with Air Georgian, please contact us at SOAR(at)airgeorgian(dot)ca