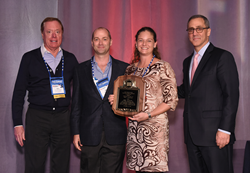 We are so honored and humbled to be viewed as a leader in the industry and community.
NASHVILLE, Tenn. (PRWEB) May 09, 2017
Nashville-based financial services provider Advance Financial recently received the highest honor in its industry: The Financial Service Centers of America (FiSCA) William Siegel Financial Service Provider of the Year Award. The company was also recognized as one of the seven financial service centers granted the 2016 Activa Award for leadership in their community through volunteerism and ongoing charitable contributions. Company owners Mike and Tina Hodges recently accepted the honors on behalf of Advance Financial at the 2016 FiSCA Awards in Washington D.C.
The William Siegel Financial Services Provider of the Year Award is given to the company who has achieved outstanding accomplishments in business management, community involvement and industry advocacy. Committed to setting the standard in its industry, Advance Financial currently operates more than 70 locations throughout Tennessee with more than 600 local employees, regularly serves its community through the Advance Financial Foundation and is actively involved in speaking out against the Consumer Financial Protection Bureau's (CFPB) attempts to discontinue the payday loan industry.
"We strive to be advocates for our community, our employees and our industry. Receiving these awards is validation of our efforts," said Tina Hodges, co-founder and CEO of Advance Financial. "We are so honored and humbled to be viewed as a leader in the industry and community."
The company was also listed as a 2016 Activa Award recipient for its community leadership and volunteer efforts. In 2015, the Advance Financial Foundation, donated $203,755 to education, health and wellness organizations in Nashville and the other 34 cities throughout Tennessee in which they are located. Employees also served a total of 1,557 hours in these communities. In the first half of 2016 alone, the program gave an additional $142,000 and nearly 1,000 hours of volunteer efforts.
About Advance Financial
Advance Financial, founded in 1996, is a family owned and operated financial center based in Nashville, Tenn. The company currently operates more than 70 locations throughout Tennessee and employs more than 700 local representatives. By focusing on a wide variety of financial services – including wire transfer, bill payment, unlimited free money orders and FLEX loans – they are committed to building long-lasting, strong relationships with every customer. Advance Financial recently earned an A+ rating from the Better Business Bureau and was named to the Inc. 5000 list of the fastest-growing private companies in the country for the fifth year in a row.
About FiSCA
FiSCA is a national trade association representing the Financial Service Center (FSC) industry. FiSCA members offer a wide array of necessary financial products and services to tens of millions of Americans each year in accordance with state and federal law. Additional information about FiSCA is available at http://www.fisca.org.