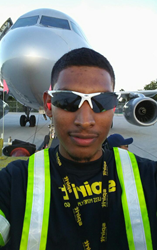 He was always very polite," April says. "He makes up for any limitations he has with effort.
Coral Springs, FL (PRWEB) May 18, 2017
Emil Rodriguez has always had a fascination with things that move. That's why he had his sights set on a career in the automotive or aircraft industry. Emil had depression with learning disabilities, so he knew securing a job might be difficult – but he wasn't going to give up on his dream. A school counselor suggested Vocational Rehabilitation (VR), a federal-state agency that helps people with disabilities get or keep a job, and he jumped at the opportunity.
Emil met with VR Counselor April Rosenblatt to go over his career goals and make a plan. "He was always very polite," April says. "He makes up for any limitations he has with effort."
Emil's original goal was to work at an automotive company, and VR paid for his training at Atlantic Technical College. Unfortunately, he had trouble with the certification exam, so he decided to give another industry a try. Switching gears, Emil accepted a job as a ramp service agent at Spirit Airlines.
"I mostly park aircraft and move luggage from place to place – from the belt to the aircraft, and then from the aircraft to the belt," Emil says. "I like being around the aircraft. It's really fun."
Though it wasn't the plan Emil had originally envisioned, the training he received though VR helped him in his new job. It turns out this was the right position for Emil after all. "It was a good opportunity, and I wanted to try it," he says. "I ended up liking it and being good at it."
Even though Emil had found the perfect job, there were a few roadblocks along the way. During his first week of work, he had transportation issues. VR technician Carl Gregory worked tirelessly to ensure that Emil would have a way to get to his new employer. "It was a serious situation because we wanted to be sure he didn't lose the job because of an issue with transportation," April says.
Having reliable transportation also helped Emil get one step closer to another future goal -- self-reliance. "Mostly, I want to be independent," he says. "I'd also like to work my way up and eventually be an airline mechanic."
Emil now has a career he is qualified for and thriving in. "He told me that he's been getting more hours, and his supervisors really like him," April says. "He works until 3 a.m. sometimes and has crazy hours, but he never complains. He is grateful for everything, grateful for our help, grateful for the job. That is what is going to help him be successful going forward."
Emil's new job brings with it some pretty cool perks as well. "When he hit the 90-day mark, he was given free flights as a benefit," she says. "And now he's celebrated his one year anniversary, has traveled across the country, and was able to save up and buy a new car." No more transportation issues for Emil.
Emil enjoyed working with April and is grateful for the opportunities she was able to prepare him for. "Working with April was really good. She is kind and helpful. She was also very knowledgeable and had a lot of answers to questions," he says.
Some employers may be afraid of hiring people with disabilities because they are unsure the candidate can perform the tasks required, but Emil says they shouldn't be. "Don't be afraid to give them a chance," he says. "They might not be able to read what they have to do, but they will be able to know how to do it."
About Vocational Rehabilitation
Florida's Vocational Rehabilitation (VR) is a federal-state program committed to helping people with disabilities become part of America's workforce. The employer-focused website, https://abilitieswork.employflorida.com/, allows businesses to search at no charge for employees who are ready to go to work, as well as to post available jobs. VR has 90 offices across Florida, and last year helped 5,194 Floridians with significant disabilities find or keep a job. For more information about VR and its services, call (800) 451-4327 or visit http://www.Rehabworks.org.