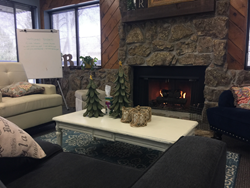 Denver, CO (PRWEB) May 10, 2017
LifePaths Counseling Center is pleased to announce that they have opened an additional location in the Denver Tech Center. This office is located in the city of Centennial and is very convenient to the large residential and business community in this area.
This location is in addition to LifePaths' existing location in the Littleton/Ken Caryl area, and allows LifePaths Counseling Center staff to support people across the entire south Denver Metro area.
The LifePaths DTC/Centennial location features a beautiful counseling room with a fireplace, plenty of natural light, and comfortable seating. In pleasant weather, there is a balcony overlooking a creek for a relaxing session with a counselor if that is preferred.
LifePaths counselors at this location specialize in postpartum depression. Along with offering individual counseling to help women coping with this, they will also offer therapy groups, workshops for the public, and workshops for other counseling and health professionals. Their counselors hope that by providing education and support in various ways, they can get help to many women and families coping with postpartum depression.
You can find more information about this location and what we offer at https://www.lifepathscounseling.com/locations/dtc-centennial-location/.
LifePaths Counseling Center is a full service counseling center providing individual, couples and family counseling to people of all ages. LifePaths also provides Executive Coaching services and workshops on various topics. The staff at LifePaths take pride in their high standards in continuing education, ethics, and caring attention to the needs of their clients. LifePaths has two Denver metro area locations in Colorado in the Littleton/Ken Caryl area and another in the DTC/Centennial area. You can find out more about LifePaths Counseling Center at https://www.lifepathscounseling.com.