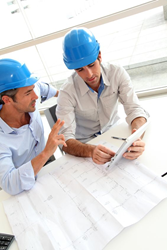 Facility managers can be ready for Joint Commission inspections at a moment's notice with Prevent Life Safety's new customer portal.
Livermore, CA (PRWEB) May 01, 2017
Prevent Life Safety's fire barrier maintenance reports are now accessible through a secure customer portal. One of the most frustrating things facility managers experience is having the Joint Commission or AHJ show up and not be able to provide them with what they need to inspect your facility. The new customer portal allows you to access reports whenever they are needed.
"Our goal is to keep your fire barrier system maintained and our new digital reporting feature is just another added tool in keeping your facility NFPA compliant," said Jodi Clem, Vice President of Sales.
The new user-friendly customer portal is:

Easy to use – Prevent Life Safety's customer portal allows customers to easily view and download your reports as needed.
Files can be viewed on any device – Reports can be viewed from a computer, tablet, phone from anywhere in a facility that has a Wi-Fi connection.
Large file-friendly – Send or receive maps and reports without size restriction.
Makes files available to access 24/7 – The secure portal allows access to files any time, day or night.
View Prevent's promotions – View current promotions on fire barrier maintenance services.
Paperless reporting option – The digital portal is an opportunity to use less paper and preserve our trees.
"In addition to convenience, we are proud to offer an environmentally-friendly reporting option," Clem added. "We take pride in keeping building occupants safe and I'm happy to be able to announce this new feature of our service."
Prevent Life Safety has been a leader in the life safety service industry, offering fire barrier management for commercial facilities. Certified technicians keep facilities up-to-code with fire damper inspection and repair; fire door inspection, repair and re-certification; and firestopping for fire-rated walls and ceilings. Call 1-877-392-6074 or visit http://www.Prevent-LSS.com today to learn more or get a free quote.