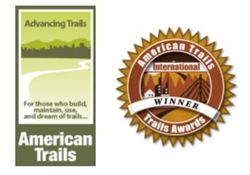 (PRWEB) May 11, 2017
Hulet Hornbeck Lifetime Service Award: Reese Lukei, Jr.:
This award is for an individual that, like Hulet Hornbeck, exemplifies long-standing vision and wisdom in support of trails.
Reese Lukei, Jr.'s long and productive career with trails began with his interest and dedication to the outdoors and migratory birds in the Back Bay National Wildlife Refuge on Chesapeake Bay in Virginia.
Trail Accessibility Award: Hawk Mountain Sanctuary:
This award recognizes a project that demonstrates integration of accessibility characteristics into its design and construction.
Hawk Mountain Sanctuary is a 2,600-acre natural area in southeastern Pennsylvania that is famous as the world's first refuge for birds of prey.
Trail Planning & Design Award, Level One: City of San Jose and Callander Associates:
This award recognizes a trail project that demonstrates innovative planning and design techniques while making a positive contribution to the community it serves.
San Jose, California has one of the nation's largest urban trail networks. Over 57 miles of trails are developed and open to the public.
Trail Planning & Design Award, Level Two: Greater Yellowstone Trail Concept Plan:
This award recognizes a project that demonstrates innovative planning and design techniques while making a positive contribution to the community it serves. (Level Two category – more than $500,000)
The Greater Yellowstone Trail Concept Plan seeks to provide residents and visitors alike with a sustainable, healthy, and authentic way to experience the region's unique landscapes and history in Montana.
Trail Partnership Award: Waldo County Trails Coalition:
This award is given to a partnership which benefits agencies or services within the field of trail planning, design, or implementation.
The Waldo County Trails Coalition is a collaborative project of nine Waldo County organizations working to create a 47-mile year-round recreational footpath stretching from Unity to Belfast, Maine. skiing.
Trail Promotion and Education Award: Cleveland Metroparks Trail Ambassador Volunteer Program:
This award recognizes innovative and successful strategies for promoting and increasing trail use and understanding.
Cleveland Metroparks in Ohio serves over 44 million visitors annually. The 23,000+ acre park district is open 365 days per year. The park has 300 miles of trails, including all-purpose trails, hiking trails, and bridle paths.
Trails for Health Award: Quad City Health Initiative, Be Healthy QC Coalition, and Bi-State Regional Commission:
This award recognizes a community's commitment to improving access to trails and promoting their use and importance for increasing physical activity.
The Quad Cities' trail network is located at the intersection of two national trail systems, the American Discovery Trail and the Mississippi River Trail between.
International Planning & Design Award: Tasmania Parks and Wildlife Service:
This award recognizes an extraordinary trail project that occurred outside the United States, which demonstrates innovative planning and design techniques while making a positive contribution to a specific country or region of the world.
On December 23, 2015 a group of 24 walkers from around the world, aged from six to 70, stepped onto a catamaran called The Blade, and launched a brand-new tourism product for Tasmania – the Three Capes Track.
State Awards: Outstanding Trail Leaders
These awards recognize individuals who have made compelling and significant contributions to the trails movement in their home states. Any area of trail excellence or achievement – advocating, designing, building, using, maintaining, promoting, decorating, adapting technologies for trail use, etc. – could be grounds for receiving this honor. Only one award per State will be made.
Steve Newton (Alabama)
Steve is a passionate advocate for safety in Off-Highway Vehicle access in Alabama.
Governor John Hickenlooper (Colorado)
Governor John Hickenlooper has elevated trails to a new level in Colorado.
Marcie Moore (Georgia)
Marcie is an employee of Gwinnett County Parks & Recreation in Georgia.
David Nash (Hawaii)
The International Mountain Bike Association chapter, Oahu Mountain Bike Ohana (OMTB), is a nonprofit organization for bicyclists on the Hawaiian island of Oahu.
Tom Laws (Idaho)
Tom demonstrates a resounding commitment to the bicycle and pedestrian network of southwest Idaho – locally known as the Treasure Valley – home to over 500 miles of trails and pathways, including nearly 50 miles of paved pathway on the Boise River Greenbelt system and 190 miles of trails in the scenic Boise foothills.
Paul Arlinghaus (Indiana)
Paul has been involved at nearly every level of trail development, including design, construction, and maintenance, on over 100 miles of mountain bike trails in Indiana.
Lieutenant Governor Billy Nungesser (Louisiana)
Lieutenant Governor Billy Nungesser has been a recreational trails advocate and builder for over a decade.
Sally Hausken (Minnesota)
Sally Hausken has done what many thought was impossible in a small, rural based community in west central Minnesota.
Vince La Plante (Nevada)
Vince is an established trail builder having constructed some of the most complex multi-use trail systems in the intermountain west and in Nevada.
Nick Ybarra (North Dakota)
Nick has been the leading force in saving the legendary Maah Daah Hey trail in western North Dakota.
Andrew Bashaw (Ohio)
The Buckeye Trail Association builds, maintains, and promotes the use of a 1,400 mile statewide trail. Andrew's efforts are the glue that brings all aspects of the association together.
Ralph Protano (Ohio)
In 2012, Ralph was hired by Ohio's Cleveland Metroparks to start up a new Trails Division.
Diana Druga (West Virginia)
Diana has lived and worked in the Clarksburg, West Virginia area for nearly 25 years.
Tim Malzhan (Wisconsin)
Tim is the Field Operations Director with the Ice Age Trail Alliance, the non-profit arm of the Ice Age National Scenic Trail.
AMERICAN TRAILS
American Trails is pursuing a national infrastructure of trails and greenways that serves a full range of activities. Through education, partnerships, and timely information resources, American Trails promotes the creation, conservation and broad enjoyment of quality trails and greenways that offer places of solace, health, fitness, recreation and transportation for all Americans. The organization supports local, regional, and long-distance trails and greenways, whether in backcountry, rural, or urban areas.
American Trails is the only national nonprofit organization working on behalf of all trail types. Visit the world's largest online resources for trails, greenways, and blueways: http://www.AmericanTrails.org.
For more information please visit:
2017 Awards webpage
2017 International Trails Symposium webpage