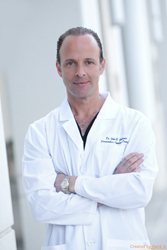 Miami, FL (PRWEB) April 26, 2017
Miami native and local periodontist Dr. John Paul Gallardo is celebrating his twenty-fifth anniversary as a dentist.
"I could have never imagined back in 1991 that this journey would have taken me into so many learning experiences both professionally and personally," said Dr. Gallardo.
Over the last 25 years, Dr. Gallardo has pioneered implant dentistry innovation, evolving into an internationally recognized leader in the industry. Since the launch of his private practice, Dr. Gallardo has treated patients from more than 38 states and 10 countries.
In addition to marking his twenty-fifth year, Dr. Gallardo recently received the 2017 Spectrum Award for Excellence in Customer Service distinguishing him from other periodontists in South Florida. His keen insights in implant dentistry combined with his knowledge in the area of periodontics and past experience in treating complex cases has brought thousands of patients from all over the world to his Miami clinic. Dr. Gallardo also hosts a doctor study club four times a year to local dentists to distribute knowledge and information regarding advances in dentistry, technology, treatments, as well as discussion in clinical questions.
"In school we were taught that the most important person in the room was always the patient. Twenty-five years later, not only do I believe that, but it's the relationship with this person that makes me want to give it my all everyday that I walk into the office," said Dr. Gallardo.
Dr. Gallardo practices in Miami, FL, where he diagnosis and treats periodontal disease and places dental implants. His practice specializes in conservative treatment of gum disease using state-of-the-art phase contrast microscopes and bacterial testing. He is one of a few offices in South Florida who offer IV sedation and performs the innovative All-on-4®, gum recession treatments, bone grafting, and The Pinhole Surgical Technique™.
For more information, please visit http://www.miamiperio.com or call 305.447.1447.