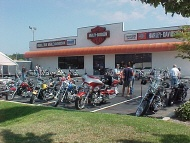 Mobile, Alabama (PRWEB) May 01, 2017
Powersports Listings Mergers & Acquisitions (PLMA), the professional Powersports Industry dealership brokerage, specializes in professional intermediary services to buyers and sellers of Harley-Davidson and Powersports dealerships. PLMA announces the closing of the sale and ownership transfer of Mobile Bay Harley-Davidson.
Mobile Bay Harley-Davidson Inc., (MBHD) was established in September of 1998, when Tom and Tim purchased Patton Harley-Davidson. Back then, MBHD consisted of a 6,000 square foot building with a General Manager, two service techs, one service writer / parts person, and one MotorClothes® Merchandise salesperson.
In January of 2000, MBHD relocated to a brand new 24,000 square foot state of the art facility, added two bike salespeople, six MotorClothes® and P&A sales people and eight members to the service department to keep up with growth. Then in January of 2004, added another 10,000 square feet, which included an expansion of the Parts & Accessories and MotorClothes® departments along with a brand new HOG room. This revved up larger format operation set the stage to court a solid buyer upon the decision to exit.
PLMA's experience and long standing professional relationships allowed for a buy-sell deal to be struck with the experienced dealership operator Bob Rubin of Revolution Motorsports L.L.C. based in Louisiana. PLMA managed all negotiations and provided guidance through the entire transfer of ownership process while maintaining the high level of confidentiality demanded by both the selling and purchasing parties. The terms of the transaction included all applicable operating assets along with the associated facility and attached real property.
PLMA hosts a real time map of available Harley-Davidson dealerships for confidential inquiry. Visit http://www.powersportslistings.com/map