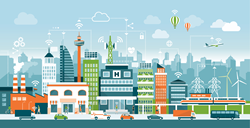 Saint Louis, Missouri (PRWEB) April 26, 2017
Fybr, which is launching its Smart City Platform in 30 cities worldwide this year, has joined the Smart Cities Council as a North America Associate Partner. The company's turnkey, end-to-end platform turns raw data from thousands of sensors into insightful information that helps make communities better places to live and work.
"We are delighted to have Fybr partnering with us," said Council Chairman Jesse Berst. "Their platform enables cities to realize the full potential of the Internet of Things. That expertise will be a tremendous asset in our work with municipalities around the globe."
As a Council partner, Fybr joins a network of leading companies advised by top universities, laboratories and standards bodies that helps cities tap the transformative power of digital technologies and intelligent design. Through advocacy, action and its landmark Readiness Program, the Council promotes smart, sustainable and inclusive communities with high-quality living and high-quality jobs.
We are pleased to be a part of an organization that is taking the lead in helping connect cities with technologies that can make communities better places to live and work – something we firmly believe in," said Fybr's CEO Bob Glatz. "We hope to leverage their connections to help us bring our turnkey solution to more communities."
###
About Fybr
Fybr is a leading, end-to-end IoT platform provider—collecting and delivering data along with advanced analytic tools to solve business and community-based quality-of-life issues such as parking, transportation, power, water management and safety—for customers worldwide. Fybr's "ready to deploy" technology makes urban life easier for residents and visitors while making cities, universities and corporate campuses safer, more efficient and sustainable.
The Fybr Platform is an end-to-end system that securely and efficiently delivers data to and from the physical world. Combining real-time sensing data with intelligent machine-learning algorithms, the Fybr Platform delivers actionable insights that help cities fix issues proactively--saving money and improving services.
Headquartered in Saint Louis, Missouri, Fybr has deployments across the U.S.—as well as Canada and Asia. With Fybr's IoT solution managing nearly 3 billion sensor events, Fybr provides a powerful, simple, and turnkey solution to enable any Internet of Things ambition for cities, farms, and businesses. http://www.fybr-tech.com
About the Smart Cities Council
Launched in 2012, the Smart Cities Council is the author of the internationally recognized Smart Cities Readiness Guide, which provides guiding principles and best practices for an integrated, cross-cutting smart city. The Readiness Guide – which was developed based on input from hundreds of cities and solution vendors and has been applied all over the world – is the framework used to produce Readiness Workshops and Smart Cities Week conferences. The Council is comprised of more than 120 partners and advisors who have generated $2.7 trillion in annual revenue and contributed to more than 10,000 smart cities projects. To learn more, visit http://www.smartcitiescouncil.com.