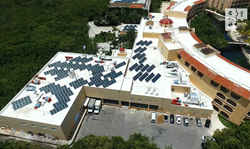 Cancún, Quintana Roo (PRWEB) April 25, 2017
Sunset World Resorts & Vacation Experiences, a company committed to sustainable tourism, has successfully implemented energy efficiency and climate change mitigation programs in its six hotels located in Cancún and the Riviera Maya. Together with MGM Innova Capital, Sunset World installed high-efficiency technologies and renewable energy that dramatically reduced the use of electric energy, LP gas and CO2 emissions.
"Sunset World is setting a great example for hoteliers worldwide in reducing the impact its operations have on the environment and planning for the future," said Alejandro Delmar, MGM Innova Energy Services Project Manager. "MGM Innova Capital supports an innovative MGM Sustainable Energy Fund that limits up-front costs by providing 100 percent financing for energy efficiency programs. Sunset is now easily paying back the investment with savings generated by the program. It's a real win for our company, leading hoteliers and the environment that belongs to us all."
Sunset's Energy Upgrades included:
Changing to LED lighting
Installation of a high-efficiency chiller and heat-recovery chiller (both reducing Liquefied Petroleum Gas consumption)
Replacing standard mini split air conditioners with inverter technology
Placement of in-room thermostats with presence, door and window sensors, Installation of 510 solar water heating panels heating 58,000 liters per day.
"We set a high bar for performance and are already exceeding our energy and emission reduction estimates," said Gabriel Santoyo, Sunset World Director of Sustainable Development. "With no upfront investment we've brought our hotels up to a standard that enhances our guest experience, saves us money and protects our precious natural environment," he added.