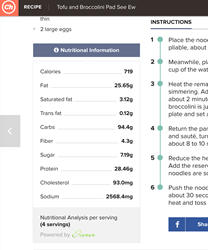 Our mission is to help people make smarter food choices.
New York, NY (PRWEB) April 27, 2017
Edamam, a provider of nutrition data services for businesses in the food, health and wellness sectors, was selected by CBS to power nutrition for its digital cooking property Chowhound. The company's unique technology will be used to provide detailed nutrition for each recipe on Chowhound, as well as label recipes for their appropriateness for all major diets and allergens.
To deliver the service, Edamam is leveraging its Nutrition Analysis API and providing CBS with a custom implementation. The Nutrition Analysis API produces real-time, highly accurate nutrition data of any recipe or ingredient list, utilizing Edamam's unique, food domain specific, natural language processing technology. The analyzed data contains information about the content of all macro and micro nutrients. It also labels recipes according to their appropriateness for all popular diets, such as vegan, paleo, gluten-free and low-sugar.
"Edamam is excited to provide the service to Chowhound -- one of the best recipes sites in the English language web. Our goal is one day to be powering nutrition for every recipe or meal people cook or eat," commented Victor Penev, the Founder and CEO of Edamam.
Other clients using Edamam's Nutrition Analysis service include Epicurious, The New York Times, General Mills, as well as a number of catering and food delivery companies and individual restaurants. The company also has a solution in Spanish and is working companies on five different continents.
"Our mission is to help people make smarter food choices by providing the information they need at the right place and time. We see working with a wide range of business partners as the best way to make our solutions universally available," added Victor Penev.
Edamam also provides a meal recommendation engine via its Recipe Search API for health and wellness businesses – another unique solution that makes the right food choices easier.
About Edamam
Edamam organizes the world's food knowledge and provides nutrition data services and value-added solutions to health, wellness and food businesses. Using a proprietary semantic technology platform, it delivers real-time nutrition analysis and diet recommendations via APIs. Edamam's technology helps customers answer for their clients the perennial question: "What should I eat?"
Edamam's partners and clients include The New York Times, Epicurious, Nestle, Samsung and Random House.
For more information, please visit http://www.edamam.com or developer.edamam.com.