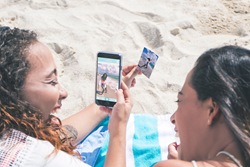 Lifeprint was created to bring the magic of real photos back into our lives
LOS ANGELES, CA (PRWEB) April 27, 2017
Lifeprint, makers of the socially connected portable Bluetooth printer that prints and shares Augmented Reality Hyperphotos™, announces the availability of its printers starting today at hundreds of Best Buy stores nationwide and Bestbuy.com.
The Lifeprint photo printer allows users to print and share Snapchat, Instagram or Facebook videos, as well as GoPro Clips, Apple Live Photos and even Animated GIFs. All printed photos come to life like magic in your hands using Lifeprint's free Augmented Reality Hyperphoto(TM) software app.
Lifeprint is the first, and only, instant photo printer in the world that not only allows you to print live videos, but also share those printed videos with your friends, family, and fans all over the world with just one click. Watch the video HERE to see how it works.
"Lifeprint was created to bring the magic of real photos back into our lives, while also giving people a chance to share real photographs in a way that's never been done before," said Robert Macauley, co-founder of Lifeprint. "People are gonna love it. Even our packaging comes to life with AR, it's really fun."
Lifeprint uses sticky-backed ZINK Paper® to allow you to share photos and videos around town or with friends. Lifeprint printers use ZINK Zero Ink® Technology to produce instant, full-color digital images without ink cartridges, ribbons or toner.
Lifeprint is available now for purchase and shipping at select Best Buy stores nationwide and BestBuy.com for $129.99. Lifeprint film is $7.99 for a pack of 10 and $27.99 for a pack of 50.
For more information, visit http://www.lifeprintphotos.com or contact pr(at)lifeprintphotos.com.
About Lifeprint
Lifeprint was born out of a desire to free the world's photos from digital screens and provide the opportunity to hold the magic of real photographs in your hands. Lifeprint is an app, a worldwide social printer network, and a portable printer that enables a truly unparalleled photo experience. The printer and app allow you to create augmented reality photos, then instantly print those photos directly from your smartphone. Every photo can tell a story using the Augmented Reality Hyperphoto™ technology, truly bringing photographs into the new millennium. To learn more visit http://www.lifeprintphotos.com.
About ZINK Holdings LLC
ZINK Holdings, a privately held company, was founded to enable millions of customers to enjoy the magic of ZINK Zero Ink® products. ZINK invented, manufactures, and is a supplier of the ZINK Printing Technology and the ZINK Paper®. The technology is utilized by partner companies, which bring ZINK-enabled products to market under their respective brands. For more information, please visit http://www.ZINK.com.
ZINK, Zero Ink, are registered trademarks ZINK Holdings LLC. All rights reserved.
Media Contact
Jessica Darrican
Max Borges Agency
jessica(at)maxborgesagency.com
305.204.9267