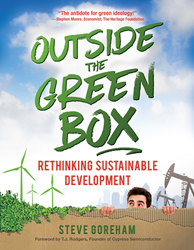 Suzuki Fund's campaign is filled with climate change dogma, not facts. Canada's economy will end up like that of North Korea or Chad, if the government takes their advice
Calgary, Alberta, Canada (PRWEB) April 27, 2017
Friends of Science Society issued a new report on April 25, 2017 entitled "Due Diligence on Renewable Demands by David Suzuki Foundation," that examines the claims of the Suzuki Fund charity which has been promoting a renewable energy campaign on their website. Friends of Science says that Suzuki Fund's claims are partisan climate dogma, not in keeping with the 'public benefit' test of a Canadian charity, as defined by the Canada Revenue Agency.
The Suzuki Fund e-mail campaign, to key government ministers, calls for more stringent greenhouse gas emissions to net zero by 2050. As reported by the CBC on Feb. 08, 2014, the David Suzuki Foundation and several other charities, have previously been under audit by the Canada Revenue Agency for partisan political activities.
"Suzuki Fund's campaign is filled with climate change dogma, not facts. Canada's economy will end up like that of North Korea or Chad, if the government takes their advice," says Michelle Stirling, Communications Manager for Friends of Science.
Considering their findings, vis a vis the Suzuki Fund campaign, Friends of Science Society are calling on the Canada Revenue Agency's Charities Directorate to require environmental charities like the Suzuki Fund to provide factual supporting data and context for their public pronouncements, in accordance with policy guidelines on balance, facts and public benefit, as outlined on the CRA's website
"Canada's GDP per capita ranking by the IMF, in 2015, is 21st at $45,602," says Stirling. "If we tried to meet the 2°C targets set by the previous government, Canada's economy would end up like that of Chad - a developing nation in a warm climate – that ranks 155th with $2,640 per citizen. Hardly a net public benefit!"
"Climate Change Dogma Exposed" is the name of Friends of Science Society's upcoming May 9th event in Calgary, as publicised in their announcement April 13, 2017 in the Calgary Herald.
Speaking on policy issues, Ottawa energy policy consultant Robert Lyman will discuss the impact of climate change policies on Canada – his talk is titled "Can Canada survive climate change policy?"
The featured speaker on climate science and energy at the Friends of Science May 9th event in Calgary will be American author, climate science and energy expert, Steve Goreham, whose latest book "Outside the Green Box: Rethinking Sustainable Development" is set for release May 1st.
"Climate Dogma Exposed" takes place Tuesday, May 9th, 2017 at the Red and White Club, McMahon Stadium, Calgary, Alberta. Ticket sales close May 1st. Tickets online at EventBrite.
About
Friends of Science has spent over fourteen years reviewing a broad spectrum of literature on climate change and have concluded the sun is the main driver of climate change, not carbon dioxide (CO2). Friends of Science is made up of a growing group of earth, atmospheric and solar scientists, engineers, and citizens.
Friends of Science Society
P.O. Box 23167, Mission P.O.
Calgary, Alberta
Canada T2S 3B1
Toll-free Telephone: 1-888-789-9597
Web: friendsofscience.org
E-mail: contact(at)friendsofscience(dot)org
Web: climatechange101.ca