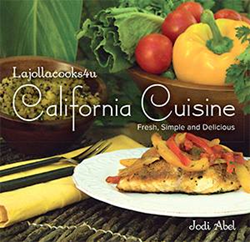 SAN DIEGO, CALIF. (PRWEB) April 26, 2017
Looking for gift ideas for mom this Mother's Day? Lajollacooks4u, San Diego's premiere team-building and cooking events company, offers one-of-a-kind gifts, ranging from gourmet cooking experiences to Farmer's Market Tours and Farm-to-Table cooking classes.
Menus specialize in California cuisine, and guests leave inspired with new cooking tips and techniques, thanks to Chef Jodi Abel's expertise from her many culinary adventures abroad. With passionate instruction, gourmet fare and a fun environment amidst stunning views overlooking the Pacific Ocean, Lajollacooks4u's cooking events are the perfect way to celebrate any special occasion or family and group gathering.
Lajollacooks4u is also proud to offer Lajollacooks4u: California Cuisine, Chef Jodi's bestselling cookbook, featuring gourmet farm-to-table cuisine. Inspired by the vibrant cultures that permeate through California, this beautifully crafted cookbook incorporates healthy eating from around the world. Every recipe has received Chef Jodi's "fresh, simple and delicious" seal of approval and is the perfect addition to any mother's cookbook collection.
Can't make it to San Diego in time for Mother's Day? Lajollacooks4u also offers gift certificates that can be applied to future visits. For more information, please visit http://www.lajollacooks4u.com.
About Lajollacooks4u:
Lajollacooks4u, founded in 2008, provides a unique culinary experience for corporate cooking challenges and special events in a magnificent setting overlooking the Pacific Ocean. Based in La Jolla, California, Lajollacooks4u has enjoyed record growth since its inception and has been ranked as the top in its category by the popular travel review site, Trip Advisor. Chef Jodi Abel also recently released her cookbook, Lajollacooks4u: California Cuisine, an accumulation of the favorite recipes her guests have been raving about. For more information about her cooking events, as well as her cookbook, please contact jodi(at)lajollacooks4u(dot)com.