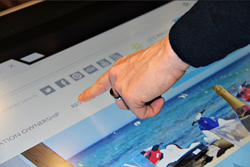 Using technology to maximise business productivity creates the platform to realise true business success.
Mellieha, Malta (PRWEB UK) 11 May 2017
With customer service excellence constituting the core of Azure's ongoing business strategy, the investment in advanced technology that is scalable, accessible and integrable is a logical move for a company with a strong focus on innovation. Several acclaimed IT systems are in varying stages of implementation at Azure and will meet the burgeoning demand for self-service, while automatically tracking behaviour and enhancing relationships by seamlessly combining supremely efficient customer journeys with personalised touchpoints.
Leading the charge is SPI Orange, an ERP system developed specifically for the leisure and hospitality industry. SPI Orange will provide Azure with an out-of-the-box functionality that requires minimum customisation and will integrate a single database with sales, contracts, loan management and reservations material through APIs that place the customer at the focal point—an example being the interface with Resort Condominiums International (RCI)'s system for holiday ownership exchange.
As Azure's Chief Information Officer Marthese Vella explains, the company evaluated numerous ERP Systems before finding a perfect match.
'SPI Orange ticked all the boxes for Azure. Security. Accessibility. Integration, where the systems talk to each other through APIs or other forms of connectivity. Open platforms, which do away with legacy systems and hard-to-source IT skills. And not forgetting scalability, because Azure is growing all the time and we need a system that keeps pace with that growth. Compared to the other products that would require excessive resources to customise according to our needs, SPI Orange is practically tailor-made for all Azure's operational requirements' Vella explained.
In addition to SPI Orange, Azure has also initiated Eloqua, a marketing platform owned by Oracle and used by marketing departments such as Lenovo, Dell and JetBlue Airways to help automate the lead generation process. Eloqua has a database that stores potential and existing customer information, an email system that communicates with prospects and customers, plus a website monitoring system that tracks prospects and existing customer activity on company websites and those belonging to third parties.
Azure has also gone live with the Acumatica financial management suite, a browser-based Core Set of applications designed for companies with complex requirements, yet remaining easy to use in smaller organisations.
Another key system being adopted comes from American communications technology giant 8x8. Providing VOIP telephony services, including cloud-based voice and call centre, video, mobile and unified communications solutions for medium to enterprise-sized businesses and distributed enterprise customers, 8x8 lists major brands Shutterstock, McDonalds and Booking.com among its clients.
With this heavyweight collection of technology about to take centre stage, Marthese Vella outlined what these additions mean for Azure's future.
'Using technology to maximise business productivity creates the platform to realise true business success. Increased business productivity can be traced to the automation of processes allowing for informed and quick decisions and increased time spent on important priorities. This technology will eliminate duplication of work, allowing faster access to important customer information and providing the right analytics to monitor and improve performance. For Azure, it all spells exciting times ahead' concluded Vella.
For more information on this article, please contact:
Marketing
Azure Group
Radisson Blu Resort & Spa, Golden Sands
L/O Mellieha, MLH 5510, Malta
Tel: 00356 2356 1808
Email: it.office(at)azure(dot)com.mt
Website: http://www.azure.com.mt