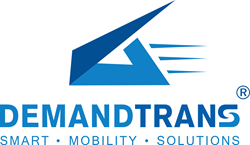 We feel the transit data revolution is here, and we are embracing the "Art of the Possible...'
Chicago, IL (PRWEB) May 10, 2017
Dr. Roger Teal and his DEMANDTRANS team have been selected to lead the first-ever national effort to create a new and more efficient data standard-one that can dramatically increase the attractiveness and use of varied public transport services.
It is no secret that pervasive data networks and connected devices are enabling rapid communication and processing of information, ushering in unprecedented shifts—in everything from biology, energy, media, politics, and most certainly, in transportation. This triad of data connectivity, handheld computers (aka, smartphones), and powerful software and algorithms is enabling innovation to occur at unprecedented levels. Everything that can be digitized is changing the way we create tailored customer-centric solutions. Being able to move, share, and interpret data is the key to unlocking incredible new possibilities.
Especially for users of public transportation.
During the past decade, there has been an enormous increase in the availability and quality of data describing public transit services. What has primarily made this data "explosion" of value to consumers (i.e., urban travelers) is the fact that this data has been generated in conformance with data standards established by a trusted entity (the General Transit Feed Specification—GTFS—initially established by Google.) Today, such data, when generated by a public transport organization and made available for dissemination, can be analyzed and used by organizations with appropriate technical resources and secure capabilities to inform public transit service offerings.
Until now, services for public transportation have not yet been able to take full advantage of these significant developments in data availability and access. As a result, GTFS data specifications have only been developed for traditional fixed route and fixed time public transport services; comparable data specifications do not currently exist for DRT and other flexible transit services.
That is about to change.
In an Uber and Lyft-centric society, where the convenience of on-demand, customizable solutions is the new expectation of transit customers, DRT, or "flexible transit" is rapidly becoming the true prize. The ability to quickly access, interpret, and share data among varied sources via a new shared dynamic transit data standard is the key to unlocking new possibilities for consumer choice, system efficiency and reliability for people from every walk of life.
Dr. Teal describes it as such, "If a transit customer is in a wheelchair and needs extra care in transport, assisting them onto the vehicle may take some time, and the presence of the wheelchair often means that only certain types of vehicles can be used. If a different service provider were to agree to transport such a customer, they would need to have available all such relevant data about the customer and their trip to maintain the sensitivity of care and transport." Expanded access to timely, relevant transactional data is essential to fully capture what is expected to occur.
Dr. Teal and his DEMANDTRANS team are very optimistic about the possibilities this effort affords. "Light exists at the end of the tunnel," he notes. "There is compelling evidence suggesting that the development of transactional data specifications, while challenging, is feasible." He explains, "In fact, there already exists a data specification for DRT, namely the SUTI data standards established in Sweden during the 1990's. Moreover, not only have the SUTI standards existed for 20 years, but in Denmark they have been a foundational element in the development of technology for one of the most extensive DRT systems on the planet, which operates open access DRT throughout the entire country (in 6 regions) via its technology platform. That platform, and the technology in the vehicles that deliver the DRT service, rely on the SUTI standards in multiple important ways to handle transactional data for over 20,000 rides per day!"
To facilitate and drive these efforts Teal recently hired the Niels Tvilling Larsen, an accomplished technology executive from Denmark who was instrumental in the design and launch of this platform. For the past several years, Larsen has been key to the success of this incrementally implemented, comprehensive solution that utilizes transactional data specifications in the form of the SUTI standard on a massive scale. In addition to Larsen, Teal has assembled an advisory panel comprised of the technology-relevant organizations in this sector. The advisory panel includes transit software companies such as Trapeze, RouteMatch, Ecolane, iCabi, and Giro, as well as service providers Uber, Lyft, Via, Veyo, MV Transportation, and TransDev. In addition, numerous transit consulting firms and public agencies such as Cambridge Systematics and capital Metro (Austin) are participating as well.
Let the transit data revolution begin!
For over 20 years, DEMANDTRANS, Inc. has been instrumental in delivering advanced technology and software applications to solve challenging problems in the transit industry. From operations management, resource scheduling, predictive modeling, transportation logistics or Smart City Solutions, the DEMANDTRANS team works with clients in the US and abroad to design and deliver intelligent transit technology to help make platforms such as Mobility-As-A Service a reality in any city of any size.