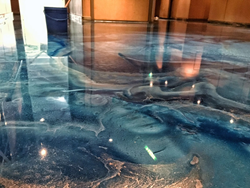 Put a Little Metallic In your Life
(PRWEB) May 01, 2017
Metallic Floors let the light shine:
Light: think about all the strong, positive words that describe light—radiant, glowing, blazing, warm, gleaming, luminescent, vibrant. Metallic floors are all about light: shining, glistening and enhancing ambient light. The net result is an overall increase in energy. While its intense colors and cloud-like tones generate some light, essentially the surface of metallic floors is reflective. Finishes reflect both existing natural and artificial light and just like all reflective surfaces, metallic floor finishes expand the amount and quality of light in the room. Visually floors add energy to a lighted space without consuming a lot of energy resources to make it happen.
Metallic Floor Product and Price Calculator
On April 28th, 2017 SureCrete's Step by Step for Free Metallic Video Reaches 6.3 Million Views o Facebook.
Metallic Floors Setting the Mood:
Metallic floors add another kind of energy to any room. Pattern variations are potentially endless, and every completed surface will contain some unanticipated highlights. Depending on available light, floors will undergo subtle visual changes throughout the day and evening. Reception space, hospitality area, display showroom. The vibrancy of metallic colors, the swirls, streaks, under- and over-tones of light set a mood for partying and dancing or dreamlike relaxation. Let customers know they've come to somewhere special the moment they enter. Draw them into an absorbing energy field that gets them quickly involved with the products and services offer. At home, use metallic floor finishes to make dreams a reality. Recreate the feel of a beach or explored a honeymoon with a metallic floor finish in a pool-house. Remember the forest floor of on a first vacation in a family room or man-cave. Design experts have long known the strong impacts color and pattern can have on human thoughts and feelings. Beige wall-to-wall carpet is more than an easy-to-clean flooring; the soft color is known to be soothing. Painting a bedroom, a pastel color may make it easier to sleep. But for the parts of life that need to sizzle, pop and step up the pace, epoxy metallics set the perfect mood.
View Metallic Floor Design Ideas
Making a Metallic Statement:
Experienced businessmen know well that time is money. In an increasingly crowded world, space is money, too. Making life effective by the square inch takes some ingenuity. One strategy, originating in the fashion industry, is called "statement" décor. In both commercial and residential spaces, smaller spaces function best when clutter is kept to a minimum. Choosing a metallic floor finish as a "statement" piece lets customers keep wall, window and ceiling décor simple and functional. Epoxy metallic can still create a powerful sense of atmosphere while letting a space work, rather than the other way around. Like a spectacular single piece of art on a white wall, a beautifully crafted area rug or an exquisitely-fabricated single piece of jewelry worn to ornament several different wardrobe items, a "statement" floor creates and sustains moods throughout a large, small or even multi-use space.
What can Epoxy Metallic Floors Bring to a Commercial Setting?
In commercial space, whether light comes from showroom windows or the fixtures over the buffet, metallic floor finishes create up to half a dozen unique and exciting looks in a single space. Customers can be offered a complete transformation of boring space in as little as a week (specific conditions may require a slightly longer cure-time, but two weeks is the max for even large jobs). Experienced workers will find materials easy to handle and apply. Prep standards are rigorous but easy to follow. The wide spectrum of colors lets business owners coordinate floor surfaces with existing logos and company or brand colors. Durability is outstanding, whether foot- or vehicle-traffic is involved. Let customers see a creative side as well as reliability.
Spectacular Home Flooring Ideas:
Too much pizazz for a residential setting? On the contrary, metallic floor finishes are just what's need to make a not-very-exciting house into a love-it-forever home. While first thought may be the highly popular choice of a unique new garage floor, rooms throughout a house can benefit from the excitement of this creative surfacing. Because metallic require the use of non-vapor-permeable sealers, any room not subject to constant hydrostatic pressure is a fine candidate for a visually-exciting, easy-to-maintain metallic floor. Tie a kitchen and family room together with a sparkling, glowing, visually stimulating path. Let the flooring of a man-cave or a boy's bedroom amp up décor while dialing down maintenance. Remember, metallics are not just for floors. Create a spectacular outdoor kitchen and entertaining area by combining new thin concrete counter technologies and metallic surfacing. Let the dimensionality of a metallic finish help banish decorative clutter and busyness, freeing available space for fun and activity, not upkeep.
About SureCrete Design Products:
SureCrete has always desired to simplify cement technology so that the applicator can use their talents solely on their craftsmanship rather than being a chemist. In 1999, SureCrete formulated the industry's first full line of single component overlay bag mixes. This technology allowed for a zero VOC, self-bonding, just add water formula that delivered the strongest freeze thaw bond strength of an overlay to concrete to date.
In 2005, they released Eco-Stain. An environmentally friendly concrete stain that allowed for 30 standard colors to be applied to both concrete and concrete overlays. The nature of this product allows for LEED points by eliminating waste water, utilizing the existing surface with no waste material, zero VOC, and fast application of sealer or coatings for low maintenance life cycle.