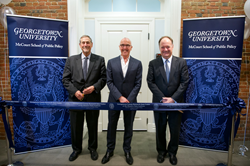 Washington, D.C. (PRWEB) April 28, 2017
The McCourt School of Public Policy at Georgetown University yesterday announced the opening of the Georgetown Research Data Center (RDC). A joint project of the U.S. Census Bureau and the McCourt School's Massive Data Institute, the Georgetown RDC provides secure access to qualified researchers at Georgetown and at other nearby universities and institutions examining a wide range of social and economic issues.
"The Georgetown RDC strengthens and animates Georgetown and the McCourt School's commitment to world-class, 21st century research and scholarship." said Robert Groves, provost of Georgetown University and former director of the U.S. Census Bureau. "We are very pleased to partner with the Census Bureau to provide expanded but secure access to these critical data."
The Georgetown RDC is the first Census Research Data Center to open in Washington, D.C. and the 24th RDC in the country.
Dr. J. Bradford Jensen, the McCrane/Shaker Chair in International Business at Georgetown's McDonough School of Business, who helped establish the first university-based RDC at Carnegie Mellon University, will serve as executive director. Dr. Nate Ramsey, lead administrator of the Federal Statistical Research Data Center program at the Census Bureau's Center for Economic Studies, will serve as acting administrator.
"The restricted-use microdata provided by Census through the RDC, like the American Community Survey, the Census of Manufacturers, and Current Population Survey, is an incredibly valuable resource to Georgetown and other qualified researchers," said Brad Jensen, Executive Director of the Georgetown RDC. "We hope Georgetown faculty, graduate students, and other researchers studying critical issues in economics and workforce issues, health and health care, statistics and demographics will get in touch about how we can work together."
RDCs are Census Bureau facilities, housed in partner institutions, that meet all physical and information security requirements for access to restricted–use micro data of the agencies whose data are accessed there. An RDC allows qualified researchers with approved projects to access restricted-use data sets from a variety of statistical agencies to address important research questions.
ABOUT THE MASSIVE DATA INSTITUTE
The Massive Data Institute at Georgetown's McCourt School of Public Policy is an interdisciplinary research center devoted to the study of high-dimensional data to answer public policy questions. The MDI uses data from novel, often real-time sources like the Internet, social media, sensors and other big data sources to increase our understanding of society and human behavior, and thus improve public policy decision-making. The MDI regularly awards seed grants, houses postdoctoral fellows, and hosts faculty seminars on public policy and massive data.
ABOUT THE MCCOURT SCHOOL OF PUBLIC POLICY
The Georgetown University McCourt School of Public Policy is a top-ranked public policy school located in the center of the policy world in Washington, D.C. Our mission is to teach our students to design, analyze, and implement smart policies and put them into practice in the public, private, and nonprofit sectors, in the U.S. and around the world.
Media Contact:
Lauren Mullins
202-687-2269
lauren.mullins(at)georgetown(dot)edu