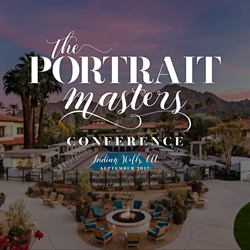 The Portrait Masters Conference is truly a unique event and learning experience for everyone, whether they participate as attendees or view the conference live on the Internet.
Los Angeles, CA. (PRWEB) April 27, 2017
Digital Product Studio and Sue Bryce Education have announced the first "Portrait Masters Conference" to be held at the Miramonte Hotel & Spa in Palm Desert, CA. from September 10-12, 2017. Hosted by renowned portrait photographer and educator Sue Bryce, the two-day conference will be conducted by seven Master portrait photographers including Bryce, Peter Hurley, Lindsay Adler, Joel Grimes, Michele Celentano, Susan Stripling, and Kelly Brown. The closing keynote will be presented by legendary portrait photographer Joyce Tenneson. Attendance will be limited to 400 participants but the event will stream live at ThePortraitMasters.com. Registration fee to attend the conference in Palm Desert is $1,100.
"Organizing and hosting a conference of this type has always been a dream of mine and working alongside some of the world's most recognized and respected photographers will be an amazing experience for me personally, and everyone in attendance," explains Sue Bryce. "I am also honored that Joyce Tenneson will present our closing keynote. Joyce is a legend in our industry and someone I've idolized for many years."
"The Portrait Masters Conference is truly a unique event and learning experience for everyone, whether they participate as attendees or view the conference live on the Internet," says Craig Swanson, co-founder of Digital Product Studio, which specializes in creating digital educational products through online communities and membership sites. "The presenters Sue Bryce has gathered for this conference are second-to-none and their knowledge and inspiration will allow attendees and online viewers to expand their own visions in photography."
The conference begins with a welcome reception and keynote presentation by Sue Bryce, followed by two full days of intense learning. Conference attendees will be able to apply what they've learned during a series of "open shoots" scheduled between seminars each day. In addition, numerous companies will display and demonstrate the latest in imaging technology and software at the conference expo. Expo hours will not overlap with any seminars or keynotes so attendees will be able to participate in every aspect of the conference.
"The Portrait Masters Conference offers the perfect combination of size, education, exhibits, and after-hours networking activities for an incredible 3-day interactive learning experience," said George Varanakis, co-founder of Digital Product Studio. "Whether you are physically attending the event or watching the presentations from the comfort of your home or studio, the learning curve will spike for everyone." 
Conference Presenters
Sue Bryce
With 27 years experience, Sue Bryce is one of the most recognizable photographers in the imaging industry. Her glamour, fashion and portrait style transcend past stereotypes and has changed the face of portrait photography. Sue Bryce Education (SBE) is one the largest online communities in the photographic industry.
Peter Hurley
Peter Hurley is a premier portrait and headshot photographer with studios in New York City and Los Angeles. He is known for the genuine expressions he captures in the headshots and executive portraits he takes. Peter is an expert on human facial expression and has spoken on the subject for TEDx, Google, Apple, Microsoft, Adobe and GoDaddy to name a few. He is the author of the recently published book, The Headshot, the definitive guide to headshot photography.
Lindsay Adler
Lindsay Adler is a professional portrait and fashion photographer based in New York. She regularly contributes to a variety of major photo publications, including "Professional Photographer," "Rangefinder Magazine," "Popular Photography," and more. Lindsay teaches thousands of photographers annually on topics ranging from retouching to fashion techniques to studio lighting.
Joel Grimes
For over 27 years Joel Grimes has worked for many of the top advertising agencies and corporations across the globe for clients such as AARP, Abbott Labs, Archer Daniels Midland, Arizona Office of Tourism, AT&T, and countless others. In 1990 Joel produced his first coffee table book, 'Navajo, Portrait of a Nation' which received a number of photographic and design awards and created an eighteen-month solo exhibit at the Smithsonian American History museum. Joel is also an ambassador for the creative process by teaching workshops and lectures around the world. "I feel that by being an open book with my process I have an opportunity to inspire others to follow their dreams and passions to create".
Michele Celentano
If you ask Michele Celentano, the most important part of our journey through life are the people we love. And for Michele, the second most important things are the photographs that help us remember those we love when they are no longer with us. Photography has always been more than a job or career to her. Photographs of the people we love the most and the times we spend with them will outlast any material thing we have. It is this emotion and level of importance that is reflected in every photo Michele creates.
Susan Stripling
Susan Stripling is one of the most respected wedding photographers and educators in the industry. Last year she launched The Wedding School, one of the fastest growing online communities for wedding photography in the world. Hundreds of hours of tutorials have been created to help photographers at all levels learn every aspect of building a successful wedding photography business. Ms. Stripling recently hosted a live workshop titled, "One Real Day" which gave viewers a beginning-to-end, behind-the-scenes look at a client's wedding day.
Kelly Brown
Kelly Brown is a Brisbane-based photographer who has become one of the world's most awarded photographers. Her studio, Little Pieces Photography which was established in 2005, has been trusted by thousands of families worldwide to capture their maternity, newborn, and family portraits. This year she opened a state-of-the-art studio in Sumner, Brisbane, where she continues to photograph exquisite portraits. Along with her team of inspired creatives, Little Pieces Photography continues to be dedicated to providing the very best photography experience to each and every client who walks through their door.
Joyce Tenneson
Internationally lauded as one of the leading photographers of her generation, Joyce Tenneson's work has been published in books and major magazines, and exhibited in museums and galleries worldwide. Her portraits have appeared on covers for magazines such as: Time, Life, Newsweek, Premiere, Esquire and The New York Times Magazine. Tenneson is the author of sixteen books including the best seller, Wise Women, which was featured in a six-part Today Show series. She is the recipient of many awards, including Fine Art Photographer of the Year in 2005 (Lucie Awards), and the Lifetime Achievement Award from the Professional Photographers of America in 2012. In addition to her photography exhibits and books, Tenneson has taught master photography classes in the U.S. and Europe for over 40 years.
# # #