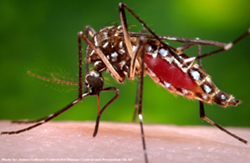 To ensure pet and child safety, a 100% Organic Mosquito Control program works best.
Huntingdon Valley, PA (PRWEB) May 01, 2017
Mosquito control is essential between now and October to protect family and pets from itchy bites and other dangerous illnesses like the Zika virus. Giroud Tree and Lawn provides Mosquito Control strategies homeowners can use to prevent mosquito bites and make the yard a "No Itch Zone."
"The first step in mosquito control is to know where mosquitoes thrive and hide," says Lou Giroud, President of Giroud Tree and Lawn and ISA Certified Arborist. "The most important control points are outdoor gathering and play spaces as well as Hot Spots like foliage, vegetation areas, mulch beds, buildings, porches, eaves, decks and patios."
To ensure child and pet safety, a 100% Organic Mosquito Control Program works best. Giroud's treatments are made from essential oils including Peppermint and Cedar oils which are a natural repellent. As an added benefit, these treatments also protect against ticks and nuisance pests like fleas, gnats and ants.
Mosquito control requires more than just a spray here or there. Giroud recommends a comprehensive approach that starts with a professional inspection:
1. Risk Assessment: Ask a professional to do a comprehensive inspection that includes identifying mosquito hot spots and developing a customized Mosquito Control Program.
2. Best Timing for Treatment: Mosquito populations skyrocket as the weather gets warmer. Mosquito Control treatments should be done every 3 weeks especially during the warmest months from late Spring through early Fall. Additional treatments may be required for properties with unusually high mosquito populations.
3. 100% Organic Mosquito Control: To be successful, mosquitoes must be controlled where they hide which is typically any dark, moist environment or dense vegetation. For safety and effectiveness, a 100% Organic treatment should be used for:

Perimeter Sprays: Mosquitoes do not use lawns as resting places. Instead, they look for sheltered areas that are out of direct sunlight. Treatment should be applied along the edges of your property to create a mosquito barrier.
Hot Spots: Mosquitoes must be controlled where they congregate. Of course the most important control points are in the outdoor spaces where you live, eat and play. Each application should cover these Hot Spots including: foliage, vegetation areas, mulch beds, buildings, porches, eaves, decks and patios.
4. Remove or Empty Objects that Collect Water: Mosquitoes need water. The inspection will identify areas where water collects that must be removed, emptied frequently or treated. Recommendations may include: old tires, buckets, plastic covers, or any other container;
5. Prune or Remove Overgrown Vegetation: Mosquitoes are shade lovers. Shady habitats should be minimized in two ways. First, cleaning up and/or clearing overgrown areas. Second, pruning tree branches and shrubs around the lawn edge to let in more sunlight.
For more information on mosquito control actions contact Giroud Tree and Lawn at 215-682-7704 or go to: https://www.giroudtree.com/mosquito-control.
About Giroud Tree and Lawn
Giroud Tree and Lawn specializes in tree service, tree removal and lawn care programs that make customers love doing business with the company since 1974. Serving Bucks, Montgomery and Philadelphia Counties, the company offers professional tree and lawn evaluation, tree pruning, tree removal, insect and disease control, fertilizing, stump removal and traditional and 100% organic lawn programs to keep lawns healthy and green . Giroud Arborists are certified by the International Society of Arboriculture (ISA) and have the knowledge and experience required to properly diagnose, treat and maintain trees and lawn health. The company is Accredited by the Better Business Bureau and has been awarded the Angie's List Super Service Award® every year since 2005. The "Giroud Treework for Charity" program donates free tree care services to parks, historical sites and other non-profit organizations located in the Company's service area. For more information, visit the company website at https://www.giroudtree.com or call 215-682-7704.