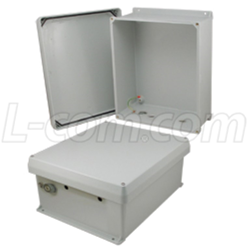 "These new NEMA enclosures are a perfect fit for both indoor and outdoor applications; they can withstand the most grueling conditions while boasting a sleek design and attractive appearance," said Manuel Martinez, Product Manager
NORTH ANDOVER, Mass. (PRWEB) May 02, 2017
L-com Global Connectivity, a preferred manufacturer of wired and wireless connectivity products, announced today that it has released a series of new screw-down lid, weatherproof NEMA enclosures that are ideal for both indoor and outdoor applications.
L-com's NBC-series NEMA enclosures are rugged, weatherproof enclosures constructed from hot compression molded, halogen-free, self-extinguishing, fiberglass-reinforced polyester (FRP). The durable exterior makes them well suited for both indoor and outdoor applications in high-temperature and corrosive environments. The new models, that measure 14x12x6 inches, are now available with modified bases which include a non-power mounting plate, as well as vented options and 120 VAC power plate versions that also include venting and heating options.
The NBC-series enclosures are UL/CSA® listed and feature a fully gasketed lid secured by four stainless steel captive screws to ensure optimal integrity. The cover is secured to the base by four threaded brass inserts within the base that create a weatherproof seal to protect the contents inside. An integral mounting flange allows the enclosure to be mounted to a wall or a flat surface without extra mounting hardware. Integral mounting stand-offs inside the enclosure can be used for mounting plates. Blank and custom mounting plates are also available.
"These new NEMA enclosures are a perfect fit for both indoor and outdoor applications; they can withstand the most grueling conditions while boasting a sleek design and attractive appearance. In addition to the six new off-the-shelf models, we offer these enclosures with custom modifications to suit unique application requirements," said Manuel Martinez, Product Manager.
All models are light gray in color with a contoured body for a clean, cool, contemporary aesthetic. The lighter color also provides better heat reflection and UV resistance. They are ideal for many installations including WLAN equipment, industrial control equipment and hydraulic or pneumatic controls.
For more information about this release, please contact:
Peter McNeil
L-com Global Connectivity
17792 Fitch
Irvine, CA
978-682-6936 x1174
About L-com Global Connectivity:
L-com Global Connectivity, a leading manufacturer of wired and wireless connectivity products, offers a wide range of solutions and unrivaled customer service for the electronics and data communications industries. The company's product portfolio includes cable assemblies, connectors, adapters, antennas, enclosures, surge protectors and more. L-com is headquartered in North Andover, Mass., is ISO 9001: 2008 certified and many of its products are UL® recognized. L-com is an Infinite Electronics company.