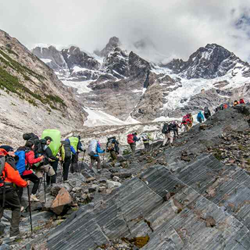 Torres del Paine (Chile) (PRWEB) May 01, 2017
Fantastico Sur has launched a new winter trekking program along the legendary "W" hiking trail in Torres del Paine National Park at the bottom end of Chile.
Spread across six days and five nights, the brand new "Winter W" program includes Base Torres, French Valley and the Grey Glacier Lookout, as well as a catamaran ride across Lake Pehoé.
Trekkers sleep overnight inside warm, comfy mountain refugios (mountain camps) operated by Fantástico Sur. The package also includes transfers to/from Puerto Natales.
"Winter W" treks will only be available between May and August. Group size will range between four and eight persons. Difficulty level along the trail varies from medium to high; segments take anywhere from three to 12 hours to complete.
The program starts on Mondays with an overland transfer from Puerto Natales (Chile) to Torres del Paine National Park. Thursday departures will be added if demand dictates.
Rate for the six-day trek is US$1,440 per person including guide services and three meals each day (dinner, breakfast and box lunch for eating on the trail).
A short video on the program can be found here.
About Fantástico Sur
A family-run business based in Torres del Paine, Fantástico Sur specializes in trekking programs and camping/cabin stays in the legendary Chilean national park. The company operates a network of refugios (mountain camps) along the famous "W" hiking circuit around the Torres del Paine mountains. With conservation and sustainability among its basic principles, Fantástico Sur has long been committed to using renewable and independent energy systems at all of its facilities at Torres del Paine.