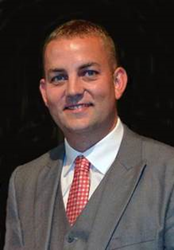 Cedar Rapids, IA (PRWEB) May 02, 2017
Brian Boedeker of Community Insurance and Financial Services in Tipton, IA, has been named 2016 Agent of the Year by United Life Insurance Company. This prestigious award is given annually by United Life to an agent who has shown steady and profitable growth for United Life, as well as outstanding sales and service.
Boedeker became an agent for United Life in 2009. Since then, he has served on the Agent Technology Advisory Board, and has been instrumental in the growth of United Life. Boedeker has also been recognized as a monthly top five agent five times in 2016, achieving the top spot three of those months.
"It's an honor to recognize Brian as our Agent of the Year. It has been wonderful to see his United Life business grow and develop over the years," said Vice President and United Life Chief Operating Officer Mike Sheeley. "He went above and beyond in 2016 with his involvement in some key growth initiatives, bringing practical views and suggestions to the table."
United Life Insurance Company is a subsidiary of United Fire Group, Inc. For more information about United Life, visit our website at http://www.ufginsurance.com.
###
About United Fire Group, Inc.
Founded in 1946 as United Fire & Casualty Company, UFG (Nasdaq: UFCS) is engaged in the business of writing property and casualty insurance and life insurance, and selling annuities through its insurance company subsidiaries. Headquartered in Cedar Rapids, Iowa, UFG is licensed as a property and casualty insurer in 46 states, plus the District of Columbia, and is represented by approximately 1,200 independent agencies. A.M. Best Company assigns a rating of "A" (Excellent) for the members of UFG. United Life Insurance Company is licensed in 37 states and represented by approximately 1,400 independent life agencies. In addition to its Cedar Rapids office, UFG also operates regional offices in Colorado, Texas, New Jersey and California. For more information, visit http://www.ufginsurance.com.