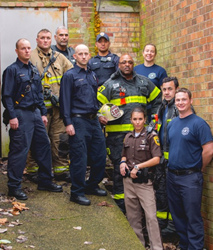 Mishawaka, IN (PRWEB) May 02, 2017
Center for Hospice Care (CHC) and the Hospice Foundation are proud to recognize area First Responders at their annual Helping Hands Award Dinner on May 3. More than 50 First Responders will take part in the event, along with more than 325 guests and donors. CHC's mission is "to improve the quality of living," and First Responders play a huge part in improving the quality of life in our communities.
"We are thrilled and humbled to be honoring such a deserving group of courageous professionals," said Mark M Murray, President and CEO. "Their tireless dedication to their communities and to helping others serves as an example to us all."
The Helping Hands Award Dinner, now in its 33rd year, recognizes individuals or groups who are committed to making a difference in their communities. This year's event is being on held on May 3, 2017 at the Hilton Garden Inn in South Bend. To learn more or to help sponsor the event, please visit cfhcare.org or foundationforhospice.org.
About Center for Hospice Care and the Hospice Foundation
Established in 1978, Center for Hospice Care is an independent, community-based, not-for-profit organization, improving the quality of living through hospice, home health, grief counseling, and community education. With offices in South Bend, Plymouth, Elkhart and Mishawaka, Center for Hospice Care serves Elkhart, Fulton, Kosciusko, LaGrange, LaPorte, Marshall, Porter, St. Joseph and Starke counties in Northern Indiana.
The Hospice Foundation is committed to supporting the work of CHC through community outreach and education, fundraising activities and other special events. The Foundation helps CHC keep its 37-year promise that no one eligible for hospice services will be turned away, regardless of their ability to pay.