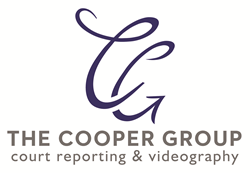 My goal with The Cooper Group is to ensure it blends exciting, proven technology with the prompt, accurate and professional service on which our reputation is built
Kansas City, MO (PRWEB) May 10, 2017
Long-time Kansas City court reporter, Sandra Cooper, announces The Cooper Group, a litigation services firm headquartered in Kansas City, Missouri, in an even more technology-focused direction. The firm specializes in using advanced court reporting, videography and electronic document technology to meet its legal clients' most demanding needs and most challenging cases.
"Traditional processes were still in place when I entered the court reporting field in the early 90s, but as technology evolved, the legal community required progressive court reporting services to keep pace. My goal with The Cooper Group is to ensure it blends exciting, proven technology with the prompt, accurate and professional service on which our reputation is built," explains Sandra Cooper, founder.
By merging reliability with progressive technology, The Cooper Group provides the quality of court reporting and videography services that the legal community deserves and expects. The firm has built a team of court reporters who embrace new technology like eDepoze, videography and Visual Connect, but hold on to traditional work values, a sense of professionalism and ethics.
About The Cooper Group
The Cooper Group offers law firms a total court reporting and deposition solution. Founded by veteran court reporter, Sandra Cooper, the Kansas City-based firm combines personable, reliable service with advanced court reporting and deposition technology whether in the courtroom or law office anywhere in the country. To learn more about how The Cooper Group's advanced court reporting, videography and electronic document technology meet the demands of today's most complicated legal cases, visit http://www.cooperlitigationservices.com.