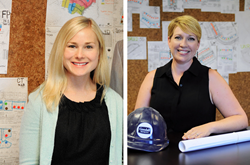 The 40 Under 40 honorees are incredibly inspiring; they are among the most accomplished young home building leaders in the nation – Denise Dersin, Editorial Director, Professional Builder.
(PRWEB) May 01, 2017
Rachael Overall, director of marketing for Goodall Homes, and Hillary Bonham, one of the homebuilder's land managers, have been honored as two of Professional Builder magazine's annual "40 Under 40" award winners.
More than 200 people across the United States were nominated. The award recognizes leaders across the home building industry. Winners were chosen by the editors of Professional Builder based on career achievement and community service.
Goodall Homes is the leading homebuilder in the Nashville market. The firm was named to the 2016 Builder 100 list of leading builders by Builder magazine and named The National Builder of the Year in 2014 by Professional Builder magazine.
Rachael Overall -- who has been a key advocate in expanding Goodall's philanthropic efforts – credited her fellow employees at Goodall Homes in earning the honor. "I wouldn't be able to do the things I do for Goodall Homes if it weren't for our team," Overall said. "Our people truly make our corporate culture."
"Launching the Second Harvest Food Bank's Hunger Free Summer campaign could not have happened without all of our team members," Overall added. "It's a joy to come to work every day. I can market our story because our hearts are in the right place, and we do the right things."
Hillary Bonham spearheaded Goodall Homes' application process for the National Housing Quality Award in 2015, helping Goodall Homes win silver. Modeled on the Malcolm Baldridge Award, NHQ is the home building industry's top award for quality management. Bonham also praised her coworkers and cited the Goodall Homes culture for helping her grow in the industry.
"I've got an incredible team," Bonham said. "On the land side, we went from developing 200 lots per year to over 500. I think it speaks volumes to the culture we have. We care so much about what we do. We love building homes for people and having the personal commitment to doing so. It feels like we have an ownership in the company. It speaks volumes to our culture of high drive and self-empowerment."
"I look forward each year to the selection process of the 40 Under 40 honorees," said Denise Dersin, editorial director of Professional Builder. "The program's winners are incredibly inspiring; they are among the most accomplished young home building industry leaders in the nation."
With deep roots in Tennessee that date to 1808, the Goodall family has been building for decades. Bob Goodall Jr. has been building single-family homes, townhomes, courtyard cottages, condominiums and villas across the greater Nashville area since 1983.
Goodall Homes has been named a Fastest-Growing Private Company for five years by The Nashville Business Journal and recognized as a Top Place to Work for the last four years by The Tennessean.
To learn more about Professional Builder's 40 Under 40 Award, visit https://www.probuilder.com/professional-builders-2017-40-under-40-awards.
For more information on Goodall Homes, visit http://www.goodallhomes.com/.