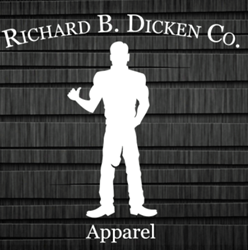 "Working through life head first"
New York City, NY (PRWEB) May 30, 2017
American based Richard B. Dicken Co., a men's apparel company started by Casey Adcock of Evansville, IN, made its debut last week with the launch of a website and eleven products ready to ship. The company's homepage tells the story of Richard Dicken (the company's mascot) as a child, and his "rise" to living life "head" first.
Each high quality t-shirt is an original creation designed to include the well-endowed muscular silhouette of a man, the Richard B. Dicken logo and an occupation on the front of the shirt such as "Investments" and a witty relevant quote on the back of the shirt such as "Pulling out at the right time."
The super soft and comfortable Bella Canvas brand t-shirts come in unisex sizes ranging from Small to 3XL. Shipping is temporarily free as a promotion. Your product is expected to arrive within 7 business days and new designs appear online in two color options every single week.
Richard B. Dicken Co. is the newer, hipper and classier version of the old Big Johnson t-shirts and they were recently featured by South Florida Chronicle and VideoGod.com's Professional Business and Product Review Journalist Josh Leidolf.
Email them at adcock(at)richardbdicken(dot)com or call 812-760-6243.