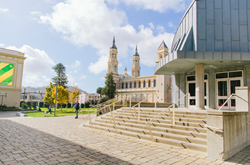 San Francisco (PRWEB) April 27, 2017
The University of San Francisco (USF) today announced the lineup of speakers and honorary degree recipients at the university's eight commencement ceremonies, taking place Thursday, May 18 through Saturday, May 20. Over 2300 graduate and undergraduate students will participate in the ceremonies at St. Ignatius Church on USF's main campus. Events will also be live-streamed via the university website (http://www.usfca.edu).
Hailing from the front lines of real estate, medicine, academia, politics and the Catholic Church, commencement speakers and honorary degree recipients include:

Regina M. Benjamin, United States surgeon general under President Barack Obama;
Mark Buell, Bay Area real estate magnate and civic leader;
Retired U.S. Lieutenant General Karl W. Eikenberry;
Reverend Jon Fuller, Jesuit priest, physician, and expert on HIV/AIDS; and
The Bishop of San Diego, Robert W. McElroy
Renowned director and playwright Carey Perloff from San Francisco's American Conservatory Theater and Maureen Orth, an award-winning journalist and education leader, will receive honorary degrees and address USF's College of Arts and Sciences.
California Attorney General Xavier Becerra will speak to USF School of Law graduates.
All ceremonies are invitation only. Journalists interested in covering the commencement events at USF must register by contacting Jennifer Kriz at (415) 422-2697 or jkriz(at)usfca(dot)edu.
University of San Francisco - 2017 Commencement Ceremonies - Lineup and Schedule
Thursday, May 18, 6 p.m.
School of Education
Honorary Degree Recipient and Commencement Speaker:
The Most Reverend Robert W. McElroy, Catholic Bishop of San Diego
Named the sixth bishop of San Diego in 2015, Bishop Robert McElroy has served in parishes throughout California, and was appointed auxiliary bishop of San Francisco (2010-2015) by Pope Benedict XVI. In 2008, he served as the Lo Schiavo Chair in Catholic Social Thought at USF. McElroy is now the vice president of the California Catholic Conference and serves at the national conference of bishops. He is the author of two books: "The Search for an American Public Theology" and "Morality and American Foreign Policy."
A native San Franciscan, McElroy received his bachelor's degree from Harvard College, and his master's degree from Stanford University, both in American history. He also holds a licentiate in theology from the Jesuit School of Theology at Berkeley, a doctorate in moral theology from the Gregorian University Rome, and a doctorate in political science from Stanford.
Friday, May 19, 9 a.m.
College of Arts and Sciences, undergraduate students for humanities and sciences
Honorary Degree Recipient and Commencement Speaker:
Karl W. Eikenberry, Ambassador and Lieutenant General, Retired, U.S. Army
Karl W. Eikenberry, who served as the U.S. ambassador to Afghanistan from April 2009 to July 2011, is currently the Oksenberg-Rohlen Fellow and director of the U.S. Asia Security Initiative at the Walter H. Shorenstein Asia-Pacific Research Center. He is also a professor and faculty member at Stanford University's FSI Center on Democracy, Development and the Rule of Law (CDDRL), the Center for International Security and Cooperation (CISAC) and The Europe Center.
In addition to his work at Stanford, Eikenberry is a fellow of the American Academy of Arts and Sciences, where he co-directs the academy's multi-year project on civil wars, violence and international responses. He serves on multiple boards, including The Asia Foundation, the International Institute for Strategic Studies, the National Committee on American Foreign Policy, Carnegie Mellon University's Center for International Relations and Politics, and the Turquoise Mountain Foundation, which aims to regenerate Afghanistan's traditional arts and historic areas.
He also is a member of the Council on Foreign Relations, the American Academy of Diplomacy and the Council of American Ambassadors.
Eikenberry is a graduate of the United States Military Academy and received master's degrees from Harvard and Stanford universities.
Friday, May 19, noon
College of Arts and Sciences, undergraduate students for arts and social sciences
Honorary Degree Recipient and Commencement Speaker:
Carey Perloff, Playwright and Artistic Director, American Conservatory Theater
Carey Perloff, an award-winning director and playwright, is celebrating her 25th and final year as artistic director of A.C.T., San Francisco's largest theater company. Known for her innovative productions of classics and new works, Perloff has directed more than 50 productions at A.C.T. Perloff's play Kinship premiered at the Théâtre de Paris in October 2014. Prior to A.C.T., Perloff was the artistic director of Classic Stage Company in New York and served on the faculty of the Tisch School of the Arts at New York University. Her memoir, "Beautiful Chaos: A Life in the Theater," about her time at A.C.T., was published in 2015 and was excerpted by American Theatre Magazine.
A recipient of France's Chevalier de l'Ordre des Arts et des Lettres and the National Corporate Theatre Fund's 2007 Artistic Achievement Award, Perloff received a B.A. Phi Beta Kappa in classics and comparative literature from Stanford University and was a Fulbright Fellow at the University of Oxford.
Friday, May 19, 3 p.m.
College of Arts and Sciences, graduate students
Honorary Degree Recipient and Commencement Speaker:
Maureen Orth, Journalist, Author and Special Correspondent, Vanity Fair
Maureen Orth is an award-winning journalist, a special correspondent for Vanity Fair, and the founder of the Marina Orth Foundation, a nonprofit foundation that promotes advanced learning in technology, English and leadership for more than 8,000 students in Colombia.
As one of the first female writers at Newsweek in the early 1970s, Orth went on to publish profiles in Vanity Fair on heads of state, business leaders and celebrities, as well as acclaimed investigative reports. She has been a contributing editor at Vogue, a network correspondent for NBC News, a senior editor for New York and New West magazines and a columnist for New York Woman. She is also a contributor to The New York Times, The Washington Post and The Los Angeles Times. For her commitment to the education and success of the youth of Colombia, Orth received the McCall-Pierpaoli Humanitarian Award from Refugees International in 2015. Orth has also published two books, the best selling "Vulgar Favors" about the murder of Gianni Versace and "The Importance of Being Famous: Behind the Scenes of the Celebrity Industrial Complex."
Orth attended San Francisco College for Women/Lone Mountain for two years and completed her bachelor's degree in political science at the University of California, Berkeley. She earned a master's degree in journalism and documentary film at the University of California, Los Angeles. Orth's late husband, Tim Russert, received an honorary degree from USF in 2001.
Friday, May 19, 6 p.m.
School of Nursing and Health Professions
Honorary Degree Recipient and Commencement Speaker:
Rev. Jon D. Fuller, M.D., S.J., Physician, Center for Infectious Diseases and Associate Professor, Boston University School of Medicine
Founding president of the National Catholic AIDS Network, Rev. Dr. Jon Fuller is the attending physician for the Center for Infectious Diseases in Boston and manages Boston Medical Center's program for HIV/AIDS care. He also coordinates the Research Thursday AIDS Conference series. As a Jesuit priest, Fuller has focused on how HIV prevention approaches can be analyzed and supported from the context of Catholic moral theology and serves as a consultant to international Catholic development and relief agencies on HIV-related policies. He teaches at Boston University School of Medicine, Weston Jesuit School of Theology and Harvard Divinity School.
Fuller attended medical school at the University of California, San Diego, and completed his residency training in family medicine at the University of California, San Francisco. He served on the University of San Francisco Board of Trustees from 2001 to 2010.
Saturday, May 20, 9 a.m.
School of Law
Commencement Speaker:
The Honorable Xavier Becerra, California Attorney General
Prior to being elected as California's attorney general this year, Xavier Becerra was a member of the United States House of Representatives for California's 34th congressional district, representing downtown Los Angeles in Congress from 1993 to 2017. Becerra also served as a deputy attorney general in the California Department of Justice from 1987 to 1990, and the California State Assembly from 1990 to 1992.
Born in Sacramento, Becerra is the son of working-class immigrants from Jalisco, Mexico. He attended the University of Salamanca in Salamanca, Spain from 1978 to 1979, and earned his B.A. in economics from Stanford University. He was the first in his family to graduate from college. Becerra received his J.D. from Stanford Law School in 1980.
Saturday, May 20, noon
School of Management, undergraduate students in business administration
Honorary Degree Recipient and Commencement Speaker:
Regina Benjamin, MD, MBA, Former U.S. Surgeon General
Dr. Regina M. Benjamin served as the 18th United States surgeon general, appointed by President Barack Obama in July 2009. As surgeon general, Benjamin oversaw the operational command of 6,700 uniformed public health officers who promote and protect the health of Americans in locations around the world. She is the first chair of the National Prevention Council and a former associate dean for rural health at the University of South Alabama College of Medicine. She is also the past chair of the U.S. Federation of State Medical Boards. In 1995, Benjamin was the first physician under age 40 and the first African-American woman to be elected to the American Medical Association Board of Trustees.
Prior to becoming surgeon general, Benjamin served patients at the rural health clinic she founded in Bayou La Batre, Alabama, keeping the clinic in operation despite damage inflicted by hurricanes George (1998) and Katrina (2005) and a devastating fire (2006).
Benjamin earned a B.S. in chemistry from Xavier University of Louisiana, an M.D. degree from the University of Alabama at Birmingham and an M.B.A. from Tulane University. She attended Morehouse School of Medicine and completed her family medicine residency in Macon, Georgia.
Saturday, May 20, 3 p.m.
School of Management, graduate and professional students, Masagung Graduate School of Management
Honorary Degree Recipient and Commencement Speaker:
Mark Buell, President, San Francisco Recreation and Park Commission, Class of 1964
Mark Buell is a graduate of USF, a native San Franciscan and a decorated Vietnam veteran. Intrepid in the world of politics and philanthropy, Buell has spent 35 years in public and private real estate development. Buell was San Francisco's first director of economic development under Joseph Alioto and later served as the first director of the Emeryville Redevelopment Agency from 1977 to 1985. He was a founding member and first president of the California Association for Local Economic Development and has served on the San Francisco Public Utilities Commission under Dianne Feinstein.
Buell is active on the boards of many nonprofit organizations including the Golden Gate National Parks Conservancy, the San Francisco Conservation Corps, the Bolinas Museum and the Chez Panisse Foundation.
###
About the University of San Francisco
The University of San Francisco is located in the heart of one of the world's most innovative and diverse cities and is home to a vibrant academic community of students and faculty who achieve excellence in their fields. Its diverse student body enjoys direct access to faculty, small classes, and outstanding opportunities in the city itself. USF is San Francisco's first university, and its Jesuit Catholic mission helps ignite a student's passion for social justice and a desire to "Change the World From Here." For more information, visit usfca.edu