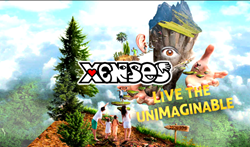 (PRWEB) April 28, 2017
Experiencias Xcaret's cutting-edge campaign to launch its Xenses park is making waves and winning awards in the online marketing industry.
The Web Marketing Association has named the campaign as the winner of its 2017 Best Travel Online Campaign award this April. The Xenses launch campaign targeted Mexican, American and Latino-American travelers, leveraging platforms such as Google, Facebook and Bing. It included online and offline elements, taking advantage of new media such as 360-degree videos, virtual reality videos, gamification, interactive rich media ads, personalized and animated emails, influencers, and a visually and technologically stunning new website.
The objective of the campaign was to take advantage of digital media to showcase all of the entertainment and sensory experiences Xenses has to offer.
Each year, the Web Marketing Association names the Best Travel Ad as part of the annual Internet Advertising Competition (IAC) Awards. Now in its 15th year, the IAC Awards is the first and only industry-based advertising award competition dedicated exclusively to online advertising. The IAC Awards were developed by the Web Marketing Association to honor excellence in online advertising, recognize the individuals and organizations responsible and showcase award winning Internet advertising. IAC judges, comprised of professionals in the advertising and Internet worlds, selected winners based on the following criteria: creativity, innovation, impact, design, copywriting and use of the medium.
More info:
http://www.iacaward.org/iac/category/Travel/best-travel-ad.html
ABOUT XENSES
Xenses is a park like no other, a place as fun as it is magical, as amazing as it is enigmatic, and as crazy as it is rational. You will be the protagonist of this experience, in a place with different real and imaginary scenarios that will surround your senses and take you to a fantastic world where your perceptions will be challenged.