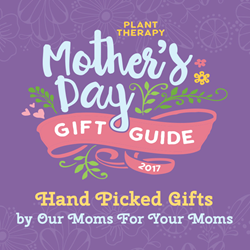 I love to share things I have learned as a mother
Twin Falls, ID (PRWEB) April 27, 2017
Plant Therapy, the fastest-growing essential oil company in the U.S., just announced the release of their Mother's Day Gift Guide featuring personalized essential oil and aromatherapy gift recommendations submitted by Plant Therapy staff (who also happen to be Moms and Grandmas). Contributors include the co-owner of Plant Therapy, their Chief Aromatherapy Officer, Affiliate Manager, and Certified Aromatherapists. Together, they have over 85 years of experience using essential oils. Each mom has recommended their favorite essential oils, and contributed a personal quote explaining why each oil is special to them as a mom.
"Motherhood is the most beautiful responsibility I have ever been given," said Plant Therapy's Co-Owner Amanda Jones, one of the moms who contributed a recommendation to the gift guide. "I love to share things I have learned as a mother that have been life changing for me in taking care of my family, which includes essential oils. I never hesitate to share what I have learned with other moms, because I love it when others share their knowledge with me."
Plant Therapy is also introducing a new product bundle available exclusively for Mother's Day called the "Forever Mom Gift Set". It includes a beautifully designed stainless steel Tree of Life diffuser pendant complete with six diffuser pads and two, 8 ounce containers of bath salts in two scrumptious scents: Romantic Rose and Luxurious Lavender & Orange. The set retails for $24.95 while supplies last.
Mother's Day is a celebration of the women that do so much for those around them. Plant Therapy's Mother's Day Gift Guide aims to take the guesswork out of finding a meaningful gift for the moms of their customers. Something special in the air smells like Plant Therapy has delivered.
About Plant Therapy
Founded in 2011, Plant Therapy is a leading supplier of essential oils and accessories. Based in Twin Falls, Idaho, we provide the absolute highest-quality essential oils and are committed to educating our customers on their uses, safety, and efficiency. Our products include organic essential oils, carrier oils, blends, KidSafe Synergies, and pre-diluted roll-ons as well as accessories such as diffusers, books, and natural body care. Visit us at https://www.planttherapy.com.