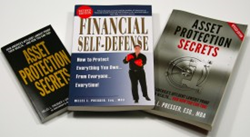 For every 60 minutes you spend making money, spend 60 seconds thinking about how to protect it!
Boca Raton, Florida (PRWEB) April 27, 2017
Many individuals believe that executing a revocable living trust under all proper formalities automatically means that their assets bypass probate, however, this is the farthest from the truth. The reality is that the revocable living trust is just an empty shell and must be funded with assets after it is formed in order to effectively allow such assets to bypass probate and be distributed to trust beneficiaries (as well as for the revocable trust to serve its purpose). Funding is the formal process of transferring the title of assets into the name of the trust, typically from a grantor's individual name. Further, funding procedures vary significantly between assets; therefore it is crucial to understand each asset's funding requirements. The following is a summary of the most common types of assets and tips on how each particular asset can be properly funded into the revocable living trust.
1. Estate Planning Defined
Estate planning is defined as the preparation of documents to plan for the incapacity of an individual (or married couple) during lifetime and for the disposition of assets at death. Estate planning typically involves preparing and executing incapacity planning documents (durable power of attorney for health care and finances and living will) along with dispositive documents (last will and testament and/or the revocable living trust). The major benefits of an estate plan is curbing the necessity of guardianship during lifetime and having control over the disposition of assets at death (including the avoidance of probate). Having a trust is a great way to allow the majority of assets (if not all) to bypass probate and be distributed to intended beneficiaries outside of court supervision. A trust also facilitates certain estate planning techniques not readily available using a last will and testament alone (such as limitations on beneficiary distributions and utilizing the marital and charitable deductions).
2. Using Real Property Deeds to Fund Real Property into the Revocable Living Trust
Real property must be transferred or funded into a revocable living trust using a real property deed executed under proper formalities, which should then be recorded in the recording office in the county where the property is located. In Florida, a deed must be executed by a grantor and signed in front of two witnesses (one of which can be a notary). Alternatively, to achieve asset protection objectives, real property can be titled to legal entities such as the limited liability company ("LLC") using the same method (a property deed executed with the same formalities as described above). Short of a property transfer deed, the real property will not be effectively funded or transferred into the revocable living trust or LLC and/or other intended entity. The result if the property ending up in a person's individual name at death and subject to probate, despite the existence of the revocable living trust.
3. Privately and Publicly Held Stock Considerations
Stock and/or LLC membership interests held privately (such as closely held businesses) require an assignment to be executed from the individual owner(s) to the revocable living trust. The assignment typically also requires the consent from the manager or owner of company as well as acceptance by the trustee of the trust to be effective. In cases where owners of privately held business interests intend on utilizing asset protection strategies, it may be prudent to use other vehicles such as the LLC and/or the limited partnership to structure a layered protective structure. Further, it is important to emphasize that the revocable living trust should specifically cross reference the business interests titled in the trust and stipulate the desired business distribution(s) after the death of the grantors.
As far as publicly held stock and bonds, the process is effectuated by executing proper transfer forms with the institution where the stocks and/or bonds were purchased and/or are currently serviced. Each financial institution is different; therefore, it is best to contact your financial institution to ensure that the proper forms are executed and the transfer is successfully completed. A follow up confirming the title transfer (within a few weeks of submitting the documents) is always sensible. In many cases, an estate planning attorney, who prepares the estate planning documents, can assist with this process, along with helping fill out the requisite forms.
4. Considerations for Naming the Revocable Living Trust as the Beneficiary of Life Insurance, Retirement Accounts and/or Annuities
Financial products, such as life insurance policies, retirement accounts and/or annuities, have similar funding procedures as publicly held stocks and bonds. The first step is to complete a full intake of all of the assets an individual owns and to assess which assets should be funded into a revocable living trust, and which should have direct beneficiary designations to family members. Beneficiary change forms should be obtained from each financial institution servicing the particular financial product and be executed to reflect the revocable living trust as the beneficiary and in very limited cases, as the owner on the policy. It is prudent to not only execute primary beneficiary designations, but also secondary beneficiary designations. Assessing whether or not retirement accounts should be titled into the trust should be assessed on a case-by-case basis, keeping in mind other assets of the estate.
5. Tips on funding Intellectual Property into a Revocable Living Trust
Funding intellectual property, such as copyrights, patents, trademarks and royalties into a revocable living trust can be accomplished by using an assignment, which should be acknowledged by a notary. The analysis of whether or not intellectual property should be funded into a trust is completed on a case-by-case basis and is highly dependent on the other planning structures in place (including businesses).
The Presser Law Firm P.A., Asset Protection Attorneys, represents individuals and businesses in connection with the establishment of comprehensive Asset Protection plans that incorporate both domestic and international components.
Visit the Law Firm's website (http://www.AssetProtectionAttorneys.com) for access to educational material on asset protection, business law, estate planning, and probate including webinars, articles and detailed legal explanations.
Contact The Presser Law Firm, P.A., Asset Protection Attorneys for a Complimentary Preliminary Consultation with one of our attorneys or to receive complimentary copies of our latest best-selling books on Asset Protection.
"For every 60 minutes you spend making money, spend 60 seconds thinking about how to protect it!" states attorney Hillel L. Presser, Esq., MBA regarding the importance of protecting your assets proactively.