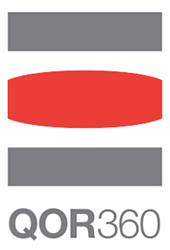 At Shark, giving life to a brand starts with some basic market positioning — which suggested to us shifting the company's name to something more contemporary and relevant.
Burlington, Vermont (PRWEB) May 02, 2017
Award-winning branding, creative, and digital marketing agency, Shark Communications is celebrating positive first quarter sales results for new start-up client QOR360, a manufacturer of Active Sitting, ergonomic chairs. QOR360 was founded by leading trauma surgeon, Dr. Turner Osler, and a team ergonomic furniture designers and body work experts. The chair's design utilizes a patented rocking mechanism that transforms the static and fixed sitting of standard ergonomic chairs, into the more dynamic, fluid, and naturally therapeutic state of Active Sitting.
As a branding agency with clients that have included the US Olympic Trials, Dell Computer, Brookline Bancorp, and numerous corporate and start-up clients, Shark's branding process began by changing the company's name from The Kinetic Furniture Company of Vermont to QOR360 to underscore the company's unique technology and its benefits to posture, core muscles, and back health. The company's logo was then designed by Shark to reference the company's core rocking technology invented by Dr. Osler. A more extensive system of graphics was then developed by Shark to integrate the design of the company's commerce-enabled website, print and digital ads, and related marketing communications across digital and traditional media.
As Shark Creative Director, Peter Jacobs, notes, "For us, giving life to a brand always starts with some basic market positioning strategy — which suggested the shift of the company's name to something more contemporary and relevant. We see two fundamental goals in the branding process for clients. One, distinguishing a company or product tin the marketplace, and two, infusing a sense of perceived value into the logo, product, service, and the brand. For QOR360, we seem to be succeeding."
Founded in Burlington, Vermont, QOR360's ergonomic seating includes revolutionary active sitting technology and is elegantly designed to fit beautifully in the home, office, studio, and more. To learn more, or purchase online, please visit http://www.qor360.com
Shark Communications is a Burlington, Vermont-based, branding, web, SEO, and digital marketing agency founded by award-winning Creative Director, Peter Jacobs. Shark serves clients in a wide variety of industries with a strategically-planned mix of creative and digital marketing solutions. Shark has received numerous creative, design, and marketing awards for clients large and small. More about Shark Communications can be viewed on the agency's website: harkcomm.com or its blog: digitalagencyvt.com