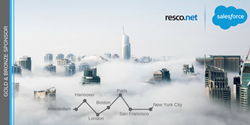 By leveraging the power of the Salesforce Platform, Resco provides customers with an exciting new way to deliver instant offline access and ability to perform all sales and field service operations offline- Kori O'Brien, SV, ISV Sales, Salesforce
(PRWEB) May 02, 2017
Resco today, revealed a significant enhancement when it comes to offline-readiness of its mobile sales and field service solution. The updated offline and fully customizable solution, Resco Mobile CRM is now available on the Salesforce AppExchange, empowering businesses to connect with their customers, partners and employees in entirely new ways. Constantly upgrading the existing 100+ features and capabilities of Resco's mobile application, the company focuses chiefly on an instant offline access and ability to perform all sales and field service operations offline, with no boundaries.
Resco Mobile CRM is currently available on the AppExchange at https://appexchange.salesforce.com.
Resco Mobile CRM Key Features:
Resco Mobile CRM is an all-in-one mobile solution that gives users around-the-clock access to CRM data wherever they are.
It offers reliable offline functionality, interactive maps, support of custom entities & many other capabilities that make it a product people love to use.
"Everyone and everything is getting smarter and more connected than ever before, and companies are looking to transform the way they connect with customers, partners and employees," said Kori O'Brien, SVP, ISV Sales, Salesforce. "By leveraging the power of the Salesforce Platform, Resco provides customers with an exciting new way to deliver instant offline access and ability to perform all sales and field service operations offline."
Additionally, Resco is set to sponsor a various number of conferences in the Salesforce community at different locations in Europe and America to introduce these new upgrades. At each Salesforce event, Resco will host a dedicated session, where it zooms in on offline maps, document creation and management, offline report generation, and a management of offline knowledge articles. Resco's team will exhibit its mobile solution via live demonstration at its booth, as well.
To keep in touch with its customers and partners, to introduce these new features, and build up new connections — Resco decided to take part in the Salesforce World Tour conferences around the globe as a Gold Sponsor. Following up with Dreamforce, the biggest annual conference, Resco will continue promoting offline mobility to Salesforce users as a Bronze Sponsor.
"2017 will be the first year, where we will not only be participating, but mainly sponsoring major Salesforce conferences – hosted either by Salesforce or its renowned partners. Each Salesforce World Tour is a not-to-miss gathering that makes for an ideal place to draw people's attention to offline mobility. A massive convention with a scale like that of Dreamforce, is a great way of engaging people – that is why, we have a couple of additional goodies in store, ready for attendees." – says Radomir Vozar, CEO at Resco
Here is a list of Salesforce conferences in 2017, Resco will attend and sponsor:
Gold Sponsor:
March 9, 2017 | Salesforce World Tour Amsterdam (past)
March 20-24, 2017 | CeBIT Hannover (past)
May 18, 2017 | Salesforce World Tour London
May 31, 2017 | Salesforce World Tour Boston
June 8, 2017 | Salesforce World Tour Paris
December 14, 2017 | Salesforce World Tour New York City
Bronze Sponsor:
November 6-9, 2017 | Dreamforce 2017
Resco will also participate in Salesforce Essentials Munich on May 31, 2017 and Salesforce Essentials Zurich on July 04, 2017.
Contact Resco for peer-to-peer meeting in your city at mobilecrm@resco.net.
"There is no better way to demonstrate Resco Mobile CRM's capabilities at face value than a face-to-face meeting. A solution that is already available to more than 1,700 corporate customers in over 100 countries, is surely able to satisfy those who wish to run all their mobile sales and field service daily operations offline with no limits. We are not just saying this — we attend Salesforce events to prove it." – adds Radomir Vozar, CEO at Resco
Salesforce, AppExchange and others are among the trademarks of Salesforce.com, inc.
About Salesforce AppExchange
Salesforce AppExchange is the world's leading enterprise apps marketplace that empowers companies to sell, service, market and engage in entirely new ways. With 3,500 partner apps and more than 4 million customer installs, it is the most comprehensive source of cloud, mobile, social, IoT, analytics and artificial intelligence technologies for businesses.
About Resco
Resco, founded in 1999, is one of the global leaders in developing cross-platform mobile software solutions. The team of Resco professionals utilizes its knowledge by designing products for corporate customers, developers, integrators, end users and today, Resco Mobile CRM is utilized by more than 1700 corporate customers around the world.
Additional Resources
Like Salesforce on Facebook: http://www.facebook.com/salesforce
Follow Salesforce on Twitter: https://twitter.com/salesforce
Check out Resco on AppExchange: Resco Mobile CRM
Become a fan of Resco: https://www.linkedin.com/company/resco-net
Follow Resco on Twitter: https://twitter.com/RescoMobileCRM