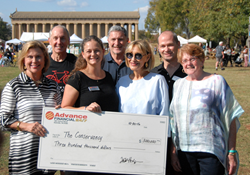 Advance Financial is committed to doing all that we can to ensure the preservation of Centennial Park so that it can continue to be enjoyed by families in the Nashville community, visitors and others."
NASHVILLE, Tenn. (PRWEB) May 02, 2017
Nashville-based financial services company Advance Financial presented a $300,000 check to The Conservancy for the Parthenon and Centennial Park. The check, donated by Advance Financial owners and founders Mike and Tina Hodges, was given on behalf of the company at its community-wide 20th anniversary celebration, Party in the Park, in Centennial Park.
The donation will be used for The Conservancy's capital campaign to revitalize the park, which will provide functional, beautiful and transcendent spaces for contemporary use while also making it a leader in community stewardship and landscape innovation.
"When looking to make a donation, the choice was easy for us. Mike and I have been coming to Centennial Park since we were kids, and now we bring our children to play in the park," said Tina Hodges, chief executive and chief experience officer at Advance Financial. "Advance Financial is committed to doing all that we can to ensure the preservation of Centennial Park so that it can continue to be enjoyed by families in the Nashville community, visitors and others."
Nashville natives, Mike and Tina Hodges each hold close personal ties to the park. Mike grew up in West Nashville and has fond memories of his mother taking him there as a child. Tina's mother would often take her and her sister to the park to feed the ducks and ride the paddleboats.
"We are most appreciative of Advance Financial's generous donation and its commitment to ensuring that Centennial Park will continue to be a place for celebration, a place for fun, a place for music, a place for art and a place for the community," said Sylvia Rapoport, president of The Conservancy. "Centennial Park holds a special place in the hearts of many Nashvillians, like Tina and Mike Hodges, and we are grateful that they treasure the Park and care for its future as much as we do."
Founded in 1982, The Conservancy spearheads the mission to elevate downtown Nashville's premier park into an urban green space for the future. This revitalization is being undertaken in collaboration with the City and Metro Parks and will:
● Preserve and enhance the things we all love about Centennial Park
● Add new features that serve 21st century Nashville
● Strengthen environmental sustainability
● Establish a funding structure that ensures long-term maintenance
● Create a nationally significant urban landscape worthy of Centennial Park's iconic status
Critical components of the Park's revitalization and restoration have already come to life: a plaza overlooking a newly day-lighted Cockrill Spring, a permanent home for The Conservancy's Musicians Corner program providing free music, a clean Lake Watauga complete with bees to help pollinate flowering trees and shrubs, fresh landscaping, and parking at the Parthenon.
The next set of enhancements includes reengineering the Great Lawn, doubling the amount of walking trails and beautifying the area around Lake Watauga and providing lighting elements for the outside of the Parthenon which will showcase the building with distinction and interest.
Party in the Park, Advance Financial's 20th anniversary celebration, was open to the entire Nashville community and featured live performances, food trucks, craft vendors and free activities for families.
"Nashville is our home and we consider everyone in Nashville to be a part of our family," said Tina Hodges, "It is an honor to have been a part of this community for the past 20 years and it was important to us to share in the celebration of this milestone with the people we care about: our customers, our employees and everyone in this town."
About Advance Financial
Advance Financial, founded in 1996, is a family owned and operated financial center based in Nashville, Tenn. The company currently operates more than 70 locations throughout Tennessee and employs more than 700 local representatives. By focusing on a wide variety of financial services – including wire transfer, bill payment, unlimited free money orders and personal lines of credit – they are committed to building long-lasting, strong relationships with every customer. Advance Financial recently earned an A+ rating from the Better Business Bureau and was named a Top Work Place by The Tennessean. For more information visit http://www.af247.com.
About The Conservancy for the Parthenon and Centennial Park
The Conservancy's mission is to preserve, enhance and share the Parthenon and Centennial Park so that all future generations may benefit from these enriching cultural and educational landmarks. The Conservancy provides educational programs at the Parthenon for children and adults, has special programs for the underserved and partners with other organizations. We are privileged to be an organization that contributes in a meaningful way to the enrichment of our community.
http://www.conservancyonline.com
http://www.pictureyourpark.com