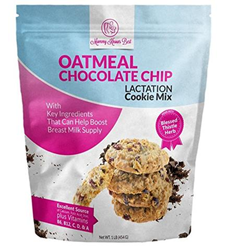 I really love these. They taste great and I noticed an increase in my milk flow within days... It was the guilty pleasure I got to look forward to everyday! Because it was for the baby afterall ;) would recommend.
(PRWEB) May 02, 2017
Mothers love to give the very best to their babies which is why it's important to spend a little bit of time optimizing the nutrients they get from breast milk. Mommy Knows Best has the only lactation cookies with the herb, blessed thistle, a galactagogue boosting breast milk supply. With the perfect premixed combination of brewer's yeast, flaxseed & oats, customers will enjoy a healthy delight. These ingredients have been used for generations, aiding breastmilk production and replenishing key nutrients mothers need.
Find these cookies and other top rated baby/child-care products at MommyKnowsBest and Amazon.
As a nursing mother busy trying to take care of a little one there is also that myriad of other day-to- day responsibilities to take care of. In all the rush, it can be easy to forget self-care, but when nursing, it's more important than ever to take care of yourself, too. Want that tasty, easy and effective solution for lactation support? Mommy Knows Best lactation cookies are an excellent source of key vitamins and minerals. Each cookie is jam-packed with healthy amounts of macro-nutrients and vitamin A, calcium and iron. The delicious cookies are a convenient lactation supplement alternative to lactation tea & bars. They help provide the extra nourishment lactating moms desire.
A lactation supplement you can eat!
Who thinks of eating delicious cookies when looking to boost their child's diet? When people do any research on ways to improve their milk production, it's a good bet that one natural solution that keeps popping up is eating oatmeal. The very first ingredient (after water) for boosting lactation, is Oatmeal, and that's exactly what we started with. After it all breaks down, website after website rates Oatmeal among the top foods to eat for breastmilk quality. Even Google shows Oatmeal as #1 when searching "foods good for breastmilk."The first link on Google!
There's plenty of anecdotal evidence of oatmeal's efficacy in boosting milk production, and lactation consultants often recommend it for that purpose. Oatmeal has other important health benefits, too, as a source of soluble fiber, meaning it stays in digestion making people feel fuller longer. Soluble fiber has also been shown to help decrease "bad" (low-density lipoprotein or LDL) cholesterol as well as decrease the risk for heart disease and diabetes. Oatmeal is also rich in essential minerals your body needs, such as thiamin, manganese, selenium, and magnesium. Not everyone wants to eat oatmeal for breakfast every morning, though. But what about eating oats in cookie form to get those milk-boosting benefits? Cookies are a convenient on-the- go snack. Plus, everyone deserves to treat themselves. Even better if they're good for both the mom and baby, right?
This stuff really helps boost milk supply for pumping when people have to go back to work and get on with other things in their life. Let it become a point of pride that the baby will never have to take a drop of formula.
A delicious way to boost milk production.
Baking cookies from scratch can be time-consuming, especially when the commitments of daily life are already hectic enough. That's why there is cookie mix. The Oatmeal Chocolate Chip Lactation Cookie Mix from Mommy Knows Best is a perfect example of providing a good source of those beneficial oats while combining them with several other well-known milk-boosting ingredients — blessed thistle, flaxseed, and brewer's yeast. In fact, this cookie mix is the only one that includes blessed thistle, containing over 200 mg of the important herb that has been used by women since the Middle Ages to help increase their milk supply. Flaxseed is also high in fiber and protein, while being rich with beneficial omega-3 fatty acids. Brewer's yeast, like oatmeal, provides key minerals, such as iron and selenium, as well as certain B vitamins. These cookies pack a strong nutritional punch for you and your baby in addition to their milk-boosting properties.
New mom J.Q. told us how the cookies helped her when she was having difficulty with her milk production: "I've eaten these cookies the past few nights and I've already seen a bit of an increase in my milk production. These cookies are absolutely delicious, too!" The Oatmeal Chocolate Chip Lactation Cookie Mix is super easy and quick to make — just add butter, water, and an egg to the mix and stir it up. Get them in the oven and a few minutes later, there will be warm oatmeal chocolate chip cookies to enjoy. Good luck hiding them from the family, though!
Again, you can find these cookies and other top rated baby/child-care products at MommyKnowsBest and Amazon.