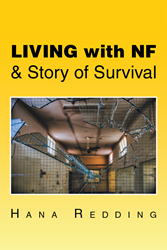 CHELTENHAM, Pa. (PRWEB) May 01, 2017
Based on the true story of being diagnosed with neurofibromatosis type 1 (NF-1) as a child, Hana Redding shares the challenges she has faced in life as well as the blessings in "Living with NF & Story of Survival."
NF-1 is one of the most common genetic disorders. Characteristics can include café-au-lait spots on the skin, benign or malignant tumors, and learning disabilities.
"My diagnosis was shocking, especially as a child," said Redding. "I eventually learned that anybody can have NF regardless of age, gender, or ethnic background."
Despite being teased by other children due to her condition, Redding also finds love and support from friends and family, falls in love, and has two healthy children.
"This book can be used in a reading group for sensitivity condition, or read personally to gain a candid alternative view of inner strength and the power of faith," said Beth Adams, Pacific Book Review.
With May being NF Awareness Month, "Living with NF & Story of Survival" shares the story of a life that is lived to the fullest despite physical ailments.
"Living with NF & Story of Survival"
By Hana Redding
ISBN: 978-1-52452-490-6 (hardcover); 978-1-52452-491-3 (softcover);
978-1-52452-492-0 (eBook)
Available on Amazon, Barnes & Noble, and Xlibris
About the author
Hana Redding is a Philadelphia native. By sharing her story in, "Living with NF," she hopes to inspire people. On her spare time, Redding enjoys being with family, traveling, and dancing. To learn more, please visit http://www.hanaredding.com.
###
Review Copies & Interview Requests:
LAVIDGE – Phoenix
Bryan Beach
480-998-2600 x 510
bbeach(at)lavidge(dot)com
General Inquiries:
LAVIDGE – Phoenix
Amanda Eisen
480-998-2600 x 540
aeisen(at)lavidge(dot)com