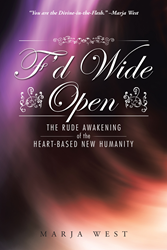 ALBUQUERQUE (PRWEB) May 01, 2017
From a humanistic and secular perspective, Marja West's "F'd Wide Open" is a book that inspires people to take command of their lives, especially after experiencing trauma.
The book is a reality-based self-help resource that does not focus on religion or new age concepts. Regarding personal trauma and feelings of lacking control, readers are asked whether they will continue to be victimized or if they will present their past traumas as badges of strength.
"I encourage everyone to learn to care about how they truly feel, think critically, take personal responsibility for their lives and happiness, and to be their own gurus," said West. "I shine light on our individual and collective darkness to spark our individual and collective creative natures so that inspired change can begin."
Additional aspects include relationships between family, friends, and romantic partners. Whether pleasant or difficult, interaction between people is a constant factor in life and the book serves as a resource for those who wish to evaluate their various relationships and what they can learn from past traumas and difficulties.
"F'd Wide Open" takes an honest and unfiltered approach to life and relationships that are often shocking, but nevertheless crucial for individuals to be happier and more fulfilled.
"F'd Wide Open"
By Marja West
ISBN: 978-1-49174-718-6 (hardcover); 978-1-49174-717-9 (softcover);
978-1-49174-719-3 (eBook)
Available on Amazon, Barnes & Noble, and iUniverse
About the author
Marja West is a non-guru lineage spiritual teacher mentoring today's men and women with practical tools to embody their realization of the truth of who and what they are: Infinite Loving Awareness and Consciousness having a human experience.
Review Copies & Interview Requests:
LAVIDGE – Phoenix
Bryan Beach
480-998-2600 x 510
bbeach(at)lavidge(dot)com
General Inquiries:
LAVIDGE – Phoenix
Chris Pena
480-998-2600 x 519
cpena(at)lavidge(dot)com