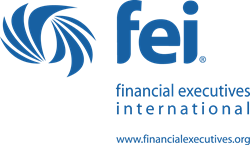 Morristown, N.J (PRWEB) May 02, 2017
Financial Executives International (FEI), the association of choice for CFOs and other senior-level financial executives, will host its 2017 Accounting Change for Financial Leaders Conference from June 27-28 at the Philadelphia Marriott Downtown in Philadelphia.
The conference will address new accounting standards such as leases and revenue recognition, and financial instrument updates on both derivatives and hedging, and classification and measurement. Sessions will be lead by regulatory and industry leaders, and are designed to prepare financial executives to meet new regulatory requirements. Special attention will be paid to current FASB initiatives in order to help financial executives understand and keep pace with a quickly changing regulatory environment.
"In this rapidly changing regulatory environment, it is incumbent upon CFOs, controllers, and treasurers to stay on top of the latest requirements and accounting standards, as well as understand and prepare for what may be coming next," said Andrej Suskavcevic, CAE, President and CEO of FEI. "This conference is an extension of our efforts to provide ongoing education and support to financial executives to ensure they remain at the top of their professions and continually utilize best practices for the benefit of their organizations."
The first day of the conference will focus on revenue recognition, featuring a keynote address from Russ Golden, FASB Chairman. Chairman Golden's remarks will focus on the future of standard setting. The day's program will also include an update on the FASB's hedging project and a session on classification and measurement.
The second day will focus on lease accounting, with a keynote address on accounting changes from an SEC perspective. Attendees will learn the new lease accounting rules, how to prepare for adoption, and uncover the impact to an organization's systems, processes and controls.
The conference qualifies for 16.5 CPE credits, and notable speakers include:

John Bober, Managing Director, Global Technical Controller, General Electric
Chris Bolash, Partner, Financial Accounting Services Practice, EY
Leigh Cokonis, Director, Accounting Consultation and Compliance, Northrop Grumman
Mary Hoeltzel, Vice President & Global Chief Accounting Officer, Cigna
Shawn Husband, Senior Director, Global Lease Center of Expertise, Walmart
Michael Keeler, Chief Executive Officer, LeaseAccelerator
Kim Kushmerick, Senior Technical Manager, Accounting Standards, AICPA
Patrick McNamee, Deputy Chief Auditor, Office of the Chief Auditor, PCAOB
Scott Muir, Partner, National Office, KPMG
Josh Paul, Director, Technical Accounting, Google
Stephen Rivera, Worldwide Sr. Director, Financial Compliance & Procedures, Johnson & Johnson
Rob Royall, Partner, Derivatives and Financial Instruments Solution Leader, EY
Matt Schuler, Manager, Accounting Research and Technical Accounting, Raytheon
David Shebay, Consulting Principal, PwC
Chris Wardak, Principal, Risk Assurance, Enterprise Systems Solutions, PwC
Other sessions include:

Technical Deep Dive into Revenue Recognition
Getting Control of Internal Controls: Accounting Change
Preparing Disclosure and Easing Transition: Revenue Recognition
Talent Development in an Accounting Change Environment
Technical Accounting for the Leasing Leader
IFRS vs. FASB Leasing: Global Solutions for New Leasing
Adoption and Planning: Leases Edition
Where's The App? How Technology Can Assist with the Adoption Process
End of the Day Q&A with Lease and Revenue Recognition Experts
Conference attendees can earn up to 16.5 CPE credits. To register for FEI's Accounting Changes for Financial Leaders conference, please contact FEI at 973.765.1099. The full conference agenda and registration can be found here (https://www.financialexecutives.org/Events/Conferences/Accounting-Changes-Everything-You-Need-to-Know.aspx).
Sessions are open to members of the media.
About FEI
Financial Executives International (FEI) is the leading advocate for the views of corporate financial management. Its more than 10,000 members hold policy-making positions as chief financial officers, treasurers and controllers at companies from every major industry. FEI enhances member professional development through peer networking, career management services, conferences, research and publications. Members participate in the activities of more than 65 chapters in the U.S. and a chapter in Japan. FEI is located in Morristown, NJ, and Washington, D.C. Visit http://www.financialexecutives.org for more information.