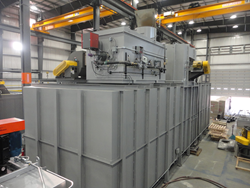 East Troy, WI (PRWEB) May 01, 2017
Wisconsin Oven Corporation shipped an LP Gas Fired Heavy Duty Car Bottom Oven with Fume Incinerator to a repeat customer in the oil and gas industry. This is the seventh oven of this type ordered by this customer, all destined for locations in 5 different countries. The oven will be used for thermal cleaning to burn-off residue in oil drilling pipes. Once the pipes are burned out they are recoated. This method is an environmentally friendly way of cleaning out the oil from drilling pipes.
This car bottom oven has a maximum temperature rating for of 800° F with work chamber dimensions of 8'6" W x 50'0 L x 8'6" H. The customer required guaranteed temperature uniformity of +/- 30° F at 750° F (±10° F was obtained) which was verified through a twenty (20) point profile test. The industrial oven has sufficient capability to heat 70,000 pounds of steel from a cold start to 750°F within 75 minutes. The load car is designed for a maximum loading for 172,000 pounds.
The fume incinerator, located on top of the thermal clean oven, eliminates the exhaust fumes created by the burn out application. The incinerator system has sufficient capacity to handle 5,000 CFM of exhaust and will remove the visible smoke from the air stream. The top portion of the fume incinerator is split for ease of access for maintenance.
"Due to the burn off application performed by this oven it was important to add the fume incinerator to minimize the impact on the environment. The incinerator eliminates the exhaust fumes created when burning off the oil in the pipes. This oven also features the E-Pack™ upgrade with design features for more efficient energy usage."- Tom Trueman, Application Engineer
Unique features of this car bottom oven include:

Heavy duty patented construction
Tight uniformity
Self-powered load car
Exhaust fume incinerator
Robust design
Load capacity of 172,000 pounds (86 tons)
Can handle up to 50' long drill pipe, 144 pieces at a time of standard size drill pipe
Ladder for access to roof mounted components
Safety railing around roof perimeter
8.5 million BTUH burner
100,000 CFM of recirculation featuring combination airflow
20,000 CFM quick-cool fan
PLC controlled
Data logging
Custom designed operator interface
Can operate by natural gas or LP gas (liquid petroleum)
Shipped via sea container
Uses rail car wheels
The thermal clean oven was fully factory tested and adjusted prior to shipment from our facility. All safety interlocks are checked for proper operation and the equipment is operated at the normal and maximum operating temperatures. An extensive quality assurance check list was completed to ensure the equipment met all Wisconsin Oven quality standards.
About Wisconsin Oven
Wisconsin Oven Corporation has been designing, engineering, and manufacturing industrial ovens and other heating equipment since 1973. Their custom and standard industrial ovens are used for a multitude of applications including heat treating, finishing, drying, and curing. Many of the industries they serve require specific temperature uniformity and equipment performance documentation. Their experienced design team is able to meet even the most stringent standards for their customers' equipment. Wisconsin Oven realizes that the success of the company depends on their Championship team of employees, which is why they have developed a company culture that recognizes and rewards employees. The goal at Wisconsin Oven is to outperform competition and provide customers with outstanding products and service.
Wisconsin Oven is owned by Thermal Product Solutions ("TPS"), a leading American manufacturer of custom industrial ovens used for heat treating, finishing, drying, curing, manufacturing automation and process control. TPS is a global leader in thermal processing products and test solutions with brands including Baker Furnace, BlueM, Gruenberg, Tenney, Lindberg/MPH, Lunaire, and Wisconsin Oven. For more information on equipment solutions from TPS visit the website at http://www.thermalproductsolutions.com. #10058AB