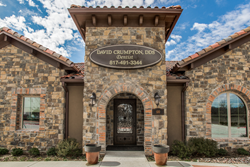 What I enjoy the most is helping patients achieve beautiful and healthy smiles!
Trophy Club, TX (PRWEB) May 02, 2017
To meet the needs of their patients' busy schedules, David Crumpton, DDS, located in Trophy Club, TX, now offers extended office hours. To address the needs of families who may not have the luxury of time during the day for appointments, the Trophy Club dental practice will include new evening and Friday hours.
David Crumpton, DDS, will offer a rotating schedule to fit into any patient's busy lifestyle. The extended schedule will rotate as follows. Monday and Tuesday the office will be open from 7:00am to 4:00pm, Wednesday and Thursday from 10:00am to 7:00pm and closed on Friday. The following weeks' schedule the office will be closed on Monday, but open Tuesday-Friday from 7:00am to 4:00pm.
"I care deeply about our patients, and I want to make sure we are available to offer times that fit into any busy schedule. Taking care of the patient is our number one priority and to provide optimal dental health in an environment where each patient feels special, important, and well cared for," said Dr. Crumpton.
For 20 years, Dr. Crumpton has been helping the Trophy Club, TX community achieve optimal dental health. The dental practice offers a full range of services, including Invisalign® clear aligners, general dentistry, cosmetic dentistry, treatment for gum disease, teeth whitening, root canal therapy, Lumineers®, dental crowns, dental bridges, and snoring and sleep apnea oral appliances.
To schedule an appointment, please call David Crumpton, DDS, at 817-491-3344 or visit DavidCrumptonDDS.com.
About David Crumpton, DDS
David Crumpton, DDS provides state-of-the-art dentistry in a supportive, caring, and friendly manner. The practice offers a full range of dental services for the entire family including general and cosmetic dentistry, Invisalign® clear aligners, root canal therapy, dental implants, porcelain crowns and periodontics, porcelain veneers, bridges, fillings, extractions, and teeth whitening. David Crumpton, DDS is located at 301 Trophy Branch Drive, Suite 100, Trophy Club TX 76262. Patients can schedule appointments by calling 817.491.3344 or visiting DavidCrumptonDDS.com.