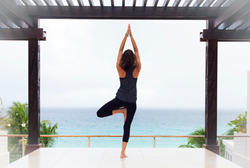 Anguila (PRWEB) May 01, 2017
Leviticus Lifestyles and Travel introduces the perfect escape from today's stresses and frenzy; a stay in a private villa on a blissful island and an individualized program designed to pry you away from electronic addiction.
The brand-new Well-Being Program is designed for each group whether it is all women, men, couples, depending on their desires. Some will demand full detox, turning in their devices cold turkey, some will ask for personal trainers, daily tough workouts, massages on the beach, sightseeing by catamaran, diving with the sharks. The wellness schedule will be full and planned by wellness professionals meticulously before you arrive. Meals will be planned with personal chefs taken at the villa or at one of the many acclaimed restaurants followed by optional dancing under the stars. Team Leviticus will tailor the menu of options to suit the tastes and budget of your special group.
"You name it," says Kenroy Herbert, owner of Leviticus Lifestyle and Travel, "we can do it (as long as it's legal, of course!). We have villas for four to 16 guests, even mini-estates for up to 24 guests, beautifully located on Anguilla's legendary beaches, or on bluffs overlooking bays and reefs and that wondrously blue Anguilla sea. One of our villas comes with self-service tequila at the touch of a button (Patron, no less!), another with private tennis and a private gym -- and then there's one spectacular eight-bedroom spread with a movie room, media room and personal golf simulator."
And with a group of friends sharing the costs, the rates may come as an eye-opener. From now through the fall, rates at Leviticus Lifestyles villas begin as low as $1,100 a night for a 2-bedroom villa – or just $275 per guest. An 8-bedroom compound that would cost up to $15,000 per night in winter might be available on your preferred dates for as little as $833.00 per guest per night. Check out the villas and rates on http://www.leviticuslifestyle.com.
For the past decade, Kenroy Herbert has been managing and marketing a portfolio of elite rental villas on Anguilla and surrounding islands on behalf of low-profile owners. Now he has launched his own company to offer a truly outstanding selection of these high-style rental residences to his own A-List clients from all over the world.
His hand-picked team of rental specialists and lifestyle managers has the experience and know-how to plan once-in-a-lifetime vacations -- between them, they have a total of almost half a century of experience pampering guests and figuring out how to make fantasies become reality. Above all, they're passionate and unflinching when it comes to what their A-List guests crave most: total, serene and utterly impenetrable privacy. "We have the experience and knowledge you need to live the lifestyle you want."
===================================
DEAL ALERT:
WELL-BEING PACKAGES FROM JUST $250 A DAY
This basic Well-Being Package from Leviticus Lifestyles begins with spa treatments and personal trainers (60 minutes or more a day, including massage, facials, manicures and pedicures, yoga sessions at all levels) then takes the pampering from there to new heights, depending on the preferences of each individual party. Endless supply of bottled water, herbal tea, coffee, fruit juices and smoothies. The basic price begins at $250 per guest per day, depending on the number of guests and all the ingredients.
Here are some of the additional options:

Private chef
Gourmet dining, breakfast, lunch, dinner and snacks
Individually planned sightseeing – by car and driver, bicycle, power boat, stand-up paddle boards, bikes and snorkeling excursion
Transfers from airport or ferry terminal
====================
For full details of all the options and all the villas, log on to http://www.leviticuslifestyle.com.
Spend a few minutes ogling the photo galleries while you're there. Awesome!
Then make that call to Kenroy.
Attention Media:
For more information, interviews with Kenroy Herbert or hi-res photographs contact Martha Morano at 212/860-5566 or martha(at)moranopr.com
OVERVIEW Leviticus Lifestyle & Travel is a concierge service specializing in luxury villa rentals, charter rentals for private jets and yachts, family and corporate events.. It is based in Anguilla but operates globally through a private network of regional experts. Its current Anguilla portfolio includes 12 of the island's newest and most-in-demand villas and estates, which are all exclusively rented and managed down to the last detail by the Leviticus President, Kenroy Herbert, a Caribbean veteran. The company also represents a total of 150+ villas on neighboring St. Barth's, all with 24-hour concierge services for travel, dining and, above all special private events