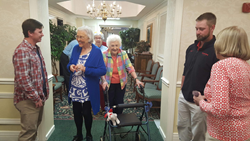 "For six to seven months out of the year, we are far away from our families. Being a part of this senior community, doesn't make it so hard," said Jared Cheek, pitcher for the South Bend Cubs.
South Bend, Indiana (PRWEB) May 01, 2017
For most Millennials, moving into a retirement community isn't on a list of priorities. But for two young, minor league baseball team pitchers, it was exactly what they did earlier this month. It was all because of a partnership between the South Bend Cubs and Saint Joseph Health System (SJHS) St. Paul's.
"For six to seven months out of the year, we are far away from our families," said Jared Cheek of Athens, Georgia, and pitcher for the South Bend Cubs. "Being a part of this senior community doesn't make it so hard to be away from them during the season."
This isn't the first year these two unlikely parties have come together. Last year St. Paul's residents welcomed three other South Bend Cubs players, Carson Sands, Craig Brooks and Tanner Griggs into the community. The uncharted waters brought new opportunities to both the residents of St. Paul's and the baseball players.
"Baseball just seems to be one of these immediate connections between generations," said South Bend Cubs president, Joe Hart. "It gives everyone the opportunity to learn from one another and bridge the gap, which isn't the easiest thing to do in our world of technology."
Wyatt Short of South Haven, Mississippi, made the move with Cheek. "After hearing about living at St. Paul's from Carson and Tanner, it wasn't a hard decision," said Short. "I was excited to become a part of St. Paul's while I was away from my family in Mississippi. I wanted to build lasting friendships that I had heard so much about."
Since the move, the two have already become part of the fabric at St. Paul's. Cheek even treated a group of residents to a private piano concert with his musical talents, and has planned to give the group an exclusive tour of the baseball complex with Short.
The residents have been busy as well, planning outings to the ball park with their customized fan club T-shirts, and tracking their new neighbors progress on a daily scoreboard posted inside the community. They've pledged to cheer them on for the entire season.
"The success of bringing two generations together last year offered new learning experiences for everyone," added Shari Binkley, executive director at St. Paul's. "It was such a rewarding summer that it was a given to invite two more players into our community for the season. Staying connected to each other and the larger community is an important part of healthy aging."
"This is incredible opportunity for these two players. They have the family and fan club support they need to focus on what they are here to do – sharpen their baseball skills and bring home a World Series trophy one day, too."
About Saint Joseph Health System
Saint Joseph Health System (SJHS) is a not-for-profit healthcare system located in North Central Indiana that offers acute-based hospital care and post-acute services including: community wellness, physical rehabilitation, home care, physician clinics, outpatient services, independent and assisted senior living, memory care and affordable senior apartments. SJHS includes: Mishawaka Medical Center; Plymouth Medical Center; Rehabilitation Institute; Outpatient services of the Elm Road Medical Campus; Health Insurance Services; Saint Joseph Physician Network; VNA Home Care; the Senior Living Communities at St. Paul's, Holy Cross and Trinity Tower; and Saint Joseph PACE. SJHS serves more than 200,000 members of the Michiana community annually. SJHS is a Regional Health Ministry of Trinity Health in Livonia, Michigan.
About the South Bend Cubs
The South Bend Cubs are the Class A minor league affiliate of the World Series Champion Chicago Cubs. Over the past 29 seasons, the team has won five Midwest League titles, most recently in 2005, and has captured 12 division titles. In 2015, the team was named Ballpark Digest's Team of the Year and received the John H. Johnson President's Award, the highest award in minor league baseball. The team is owned and operated by Swing-Batter-Swing, LLC whose sole shareholder is Andrew T. Berlin of Chicago, Ill. More information is available at http://www.SouthBendCubs.com.