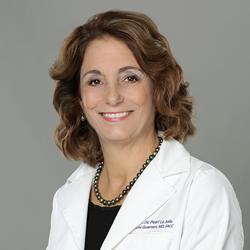 Your genes do not determine your destiny – you do. Most diseases are preventable and often reversible. My program addresses everything from the foods you eat and the relationships you cultivate to the way you work and play.
San Diego, CA (PRWEB) May 01, 2017
"108 Pearls to Awaken Your Healing Potential," a new, comprehensive guide by internationally-renowned Integrative Cardiologist Mimi Guarneri, MD, FACC, ABOIM, was just published by Hay House, Inc. Dr. Guarneri, a leading proponent of Integrative Medicine, taps her more than 20 years of award-winning experience in conventional, integrative and natural medicine to create this unique, comprehensive step-by-step program for health transformation. Weaving together extensive modern science with ancient wisdom for her 108 pearls, Dr. Guarneri takes us on a journey of health transformation that is easy to follow in our daily lives.
The interconnection between all the systems on our planet are a key component of her approach to optimal health and longevity. Dr. Guarneri lists ways to minimize damage from environmental toxins and hormones. She underscores how consumer behavior, lifestyle choices and personal actions affect not only our own health but global health. Highlighting her perspective on the link between human and planetary health, the Foreword of "108 Pearls to Awaken Your Healing Potential" is written by Dr. Veerabhadran Ramananthan, who is recognized internationally for his leadership in climate change, global science and sustainability.
About the author:
Board-certified in cardiovascular disease, internal medicine, nuclear cardiology, and Integrative Holistic Medicine, Mimi Guarneri, MD, FACC, ABOIM is president of the Academy of Integrative Health and Medicine (AIHM), serves on the founding board of the American Board Physician Specialties in Integrative Medicine (ABOIM), and is a clinical associate professor at University of California, San Diego (UCSD). She is an advisor to large healthcare systems to develop integrative medicine and wellness centers. She is co-founder and medical director of Guarneri Integrative Health, Inc. at Pacific Pearl La Jolla in La Jolla, California, where she leads a team of experts in conventional, integrative and natural medicine. Her numerous awards include Bravewell Physician Leadership Award, ARCS Foundation Scientist of the Year, 2012 Linus Pauling Functional Medicine Lifetime Achievement Award from the Institute for Functional Medicine, Grace A. Goldsmith award from the American College of Nutrition and San Diego Magazine's Woman of the Year Awards as 2016 Health and Wellness Pioneer for her outstanding leadership. Dr. Guarneri co-founded and serves on the board of Miraglo Foundation, a nonprofit, charitable organization.
Dr. Guarneri also is author of "The Heart Speaks" (Simon & Schuster, 2007), and her work has been featured on television with NBC Today and PBS. She is the Professor of The Great Courses DVD series, The Science of Natural Healing and co-author of Total Engagement: The Healthcare Practitioner's Guide to Heal Yourself, Your Patients & Your Practice. Read more about Dr. Guarneri and her book on her website: http://mimiguarnerimd.com