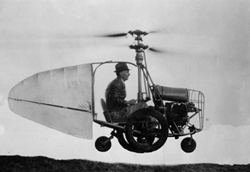 Such makes as Aston Martin, Ferrari, Porsche, and Mercedes Benz have made their name producing cars that make your heart take flight.
Beverly Hills, California (PRWEB) May 05, 2017
An April 27th article on Fortune tells readers that, despite the arrival of some exciting prototypes, those who've been waiting for flying cars since childhood may have to wait a little while longer. Aside from the purely technical challenges of manufacturing small flying machines for the mass market, the article informs readers, there are numerous logistical and safety hurdles that need to be dealt with before the first of these futuristic vehicles finally soar above the nation's highways. Beverly Hills-based Luxury Line Auto Rental notes that, while it may still be decades or longer before flying cars become an everyday reality, some truly amazing autos are currently available which, in their own way, are every bit as impressive – and they can all be driven without actually having to purchase one by taking advantage of a quality car rental agency. The types of vehicles that are now available include:
The World's Finest Sports Cars. Such makes as Aston Martin, Ferrari, Porsche, and Mercedes Benz have made their name producing cars that make your heart take flight, even if all four wheels are very firmly on the ground, says Luxury Line Auto Rental. Indeed, the Ferrari California is as smooth driving and excitingly powerful as the golden state for which it was named. For its part, the Porsche 911 is a truly superb example of a car that has been burning up highways worldwide since the Italian automaker first introduced it way back in 1963, says the agency.
Super Cool Convertibles. Driving down PCH on a gorgeous weekend afternoon in a convertible most individuals can only dream about just might be the closest feeling there is to actually being borne aloft, says Luxury Line Auto Rental. Easily the most iconic of these is the Mustang convertible, the most exciting version of the most renowned of the American muscle cars, famed around the world since first being introduced in the third James Bond adventure, 1964's "Goldfinger." The agency notes that it offers both the convertible Mustang and America's other legendary muscle car, the Camaro, in its convertible form. The agency's fleet also includes convertible versions of leading sports cars from BMW, Porsche, and Mercedes Benz.
Luxury Line Auto Rental concludes by noting that it also offers the very finest in luxury cars, exotic vehicles, and SUVs, among many other fine automobiles. Readers wishing to find out more about renting a high-end vehicle can call (310) 229-0001 or visit the agency online at http://www.LuxuryLineAutoRental.com.