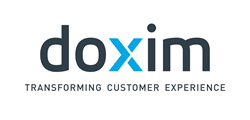 Customer-convenient online and mobile account opening is likely to be especially appealing to younger prospects and to financial institutions who want to attract them. -- Chris Rasmussen, President and CEO of Doxim
Toronto, ON (PRWEB) May 01, 2017
Doxim (http://www.doxim.com), a leading provider of customer engagement software for the financial services industry, today announced the general availability of its much anticipated self-service capabilities for Doxim Account Opening. As part of this rollout, Doxim Account Opening will also offer enhanced information capture functionality for FINTRAC and other regulatory compliance.
Banks and credit unions that leverage Doxim's integrated Customer Engagement Platform can now enable customers to open accounts and apply for loans remotely, by integrating Doxim's self-serve portlets into their website or mobile banking platform. The portlets are fully responsive with smartphone and tablet support to facilitate applications on the go. Customers can simply log on to their financial institution's website or mobile / online banking tool, and apply for an account, a loan, or both, through an intuitive, questionnaire-based interface. Customer identification can also be captured on the fly by using the camera on the user's mobile device.
"Today, 60 percent of customers indicate that they use online banking at least weekly, and mobile banking usage continues to grow as well," said Chris Rasmussen, President and CEO of Doxim. "We've added self-serve capabilities to Doxim's Customer Engagement Platform to help banks and credit unions capture their share of the online market and accelerate the adoption of their mobile banking services by their existing customers. Customer-convenient online and mobile account opening is likely to be especially appealing to younger prospects and to financial institutions who want to attract them."
As well as facilitating self-service, Doxim Account Opening can be used to provide an effortless and streamlined account opening experience in-branch or over the phone. Integrations with Doxim Loan Origination mean that customers can apply for more than one account or loan during the same session without having to complete duplicate applications.
Banks and credit unions that want a personalized demonstration of Doxim Account Opening, including its new self-serve capabilities, are encouraged to reach out to Doxim and book a personalized demo.
About Doxim
Doxim is a leading provider of SaaS-based customer engagement software for banks, credit unions, and wealth management firms. Doxim's Customer Engagement Platform helps financial institutions transform their client experience, communicate more effectively throughout the client lifecycle and improve cross sell and upsell activities that drive increased wallet share. The platform addresses key digitization challenges, from automated account opening, through improved, personalized communications to anytime, anywhere content access, tailored to a client's channel preferences. This eliminates costly traditional paper-based, manual processes and enables cost-effective provision of an omni-channel experience that delights customers and improves their long-term loyalty. Find out more at http://www.doxim.com.