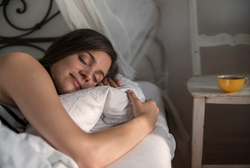 LINCOLN, R.I. (PRWEB) April 28, 2017
Getting enough sleep affects much more than energy – it also has mental and physical benefits. According to the National Sleep Foundation (NSF), going just 19 hours without sleep can compromise motor reaction time, which can increase the risk of having a car accident.
This week is Sleep Awareness Week, and Amica Insurance is sharing the following tips from the NSF to help you sleep better and feel better:

Turn off all electronics an hour before bed, including laptops, tablets and smartphones. If reading before bed, consider the print format.
Try not to eat a big meal before bedtime. Eating a small, healthy snack instead is better.
Reduce caffeine intake eight hours before going to bed. Try drinking caffeine-free tea, such as chamomile, ginger or peppermint.
If feeling stressed, try mediation or light yoga as a relaxation technique. An aromatherapy diffuser with vanilla, valerian and jasmine can also help you to feel relaxed and calm.
Keep the bedroom temperature cool, between 60 and 67 degrees Fahrenheit. Try blackout curtains or a sleep mask if the bedroom isn't dark enough.
About Amica Insurance
Amica Mutual Insurance Co., the nation's oldest mutual insurer of automobiles, was founded in 1907. The company, based in Lincoln, Rhode Island, is a national writer of auto, home, marine and umbrella insurance. Life coverage is available through Amica Life Insurance Company, a wholly owned subsidiary. Amica employs more than 3,700 people in 44 offices across the country. For more information, visit Amica.com.
Media inquiries can be sent to MediaCenter(at)amica.com.
Twitter: Amica
Facebook: Amica Mutual Insurance Co.