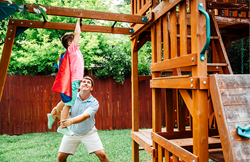 LINCOLN, R.I. (PRWEB) April 28, 2017
Outdoor play equipment allows kids to get outside, exercise and spend time with friends. That's why it's important for parents to not only ensure that home playground equipment is safe, but to also follow some simple safety guidelines.
A recent study by the Centers for Disease Control and Prevention found that emergency departments see more than 20,000 children ages 14 or younger for playground-related traumatic brain injuries each year. This week is National Playground Safety Week, and Amica Insurance is sharing the following safety tips from the American Academy of Pediatrics:

Carefully supervise young children using playground equipment. Keep children from shoving, pushing or fighting.
The surface under playground equipment should be energy absorbent. Use safety-tested mats or loose fill materials (shredded rubber, sand, wood chips or bark), maintained to a depth of at least nine inches.
Install playground equipment at least six feet from fences or walls.
Install the protective surface at least six feet (more for swings and slides) in all directions from the equipment.
Swing seats should be made of something soft, not wood or metal.
Children should not twist swings, swing empty seats or walk in front of moving swings.
Put home playground equipment together correctly. It should sit on a level surface and be anchored firmly to the ground.
Cap all screws and bolts. Check periodically for loose nuts and bolts and broken, rusty or sharp parts.
Check for hot metal surfaces on equipment, such as those on slides, which could cause burns.
Never attach ropes, jump ropes, clotheslines or pet leashes to playground equipment because children can strangle themselves on them.
About Amica Insurance
Amica Mutual Insurance Co., the nation's oldest mutual insurer of automobiles, was founded in 1907. The company, based in Lincoln, Rhode Island, is a national writer of auto, home, marine and umbrella insurance. Life coverage is available through Amica Life Insurance Company, a wholly owned subsidiary. Amica employs more than 3,700 people in 44 offices across the country. For more information, visit Amica.com.
Media inquiries can be sent to MediaCenter(at)amica(dot)com.
Twitter: Amica
Facebook: Amica Mutual Insurance Co.