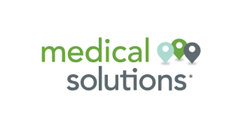 Omaha, Neb. (PRWEB) May 02, 2017
Medical Solutions, one of the nation's largest travel nurse staffing companies, will celebrate Nurses Week, May 6-12, 2017, with a special Nurses Week quiz, prizes, a Spotify party playlist, an original nurse tribute music video from C. Young, a student nurse scholarship, and more at WeLoveOurNurses.com.
Medical Solutions' Nurses Week 2017 celebration will include:

"So Much Love in the Scrubs" Music Video Nurse Tribute — In order to celebrate nurses in a big way, Medical Solutions partnered with musician C. Young to create this very special jam which honors nurses for their many selfless contributions to the healthcare field.
"What Kind of Party Are You?" Quiz — In keeping with this year's party theme, take this fun quiz to learn what type of party you most resemble. Taking the quiz is also your entry for the chance to win one of 50 Nurses Week prizes, including:
o Thirty $50 Amazon Gift Cards
o Five Amazon Tap Alexa-Enabled Portable Bluetooth Speakers
o Three Apple iPad Mini 2s
o Three Pizza Parties Catered in for You and Your Unit
o Three $120 Alegria Shoes Gift Cards
o Three $60 Wonder Wink Scrubs Gift Cards
o Three $25 Sockwell Socks Gift Cards

Sixth Annual Nurses of Tomorrow Scholarship — In light of the ever-growing nationwide nurse shortage, Medical Solutions wants to support the education and development of future nurses and nurse leaders. Three lucky nurse scholars will each win a $2,000 scholarship to put towards their education costs! Entries will be accepted here through May 12, 2017.
Nurses Week Spotify Party Playlist — Every good party needs good music. That's why we put together this customized Spotify playlist to keep nurses nationwide moving and grooving as they celebrate their special week.
Nurses Week eCards — Enjoy three free shareable and downloadable cards in celebration of Nurses Week. You can post them to Facebook, tag your friends, and download them to share via email or through other social sites with your nurse colleagues and friends.
Visit WeLoveOurNurses.com to learn more about and to participate in all of the festivities as Medical Solutions celebrates Nurses Week 2017!
About Medical Solutions: Medical Solutions L.L.C. is a healthcare staffing firm that specializes in placing registered nurses in temporary travel assignments throughout the nation. The company is one of the largest Travel Nurse staffing agencies in the United States, with locations in Omaha, San Diego, Cincinnati, and Tupelo, MS. Medical Solutions was one of the first Travel Nursing and Allied Healthcare staffing companies to be certified by the Joint Commission and has been continuously certified since January 2005. Medical Solutions was named one of Modern Healthcare's 2016 "Best Places to Work in Healthcare," named among Staffing Industry Analysts' 2017 "Best Staffing Firms to Work For," has been named nine times to the Inc. 5000 list of fastest-growing private companies, and its flagship Omaha office won the 2014 Better Business Bureau Integrity Award. A nationwide network of qualified healthcare providers allows Medical Solutions to help its client hospitals continue to provide excellent patient care amidst a nursing shortage. Medical Solutions has contracts with 2,200+ client hospitals nationwide and is one of the fastest-growing companies in the Travel Nursing industry. Visit MedicalSolutions.com to learn more.