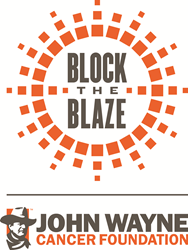 Newport Beach, CA (PRWEB) May 02, 2017
Skin cancer is the most common type of cancer in the U.S., affecting more than 3.6 million people each year - and that number is on the rise. However, nearly 95% of skin cancers are curable if they are caught early and treated quickly, which is why education is vital to prevention. Block the Blaze is a John Wayne Cancer Foundation (JWCF) funded youth skin cancer education program that aims to educate youth about sun safety and skin cancer, with an emphasis on prevention and self-screening. As May is National Skin Cancer Awareness Month, Block the Blaze has outlined a few tips to help protect yourself against the sun's harmful rays and how to self-screen for melanoma:
● Apply sunscreen: While this may seem obvious, many people still forego sunscreen or forget it when it's a bit cloudy outside. Clouds do not protect you from UV exposure and up to 80% of harmful UV rays can penetrate your skin on cloudy days. Be sure to use at least an SPF 30 thirty minutes before going outdoors, and reapply every two hours.
● Wear a hat: Wearing a hat will protect your scalp from the sun. The wider the brim, the more skin will be covered.
● Wear sunglasses: Not only are sunglasses a stylish fashion accessory, they provide much needed protection from the bright rays. Skin cancer can develop in the eyes, so it is extremely important to wear sunglasses when outside and especially around water as it reflects UV rays.
● Wear protective clothing: Wearing a rash guard or water shirt will protect almost half your body from the sun. Your rash guard will not wash off after two hours in the water; your sunscreen will.
● Seek shade: Whether at the park, the beach, or the ballgame, try to set up shop somewhere close to a shade source. Even with all of the protective elements noted above, you may still need some extra cover.
● Self-screen: Getting in the habit of self-screening can be a huge factor in early detection. Once a month, spend five minutes checking your body. Melanoma often presents itself looking like a mole, and most of us have healthy, natural occurring moles. Use the ABCDE's of Melanoma as a guideline to follow while self-screening, and if you recognize one or more of the symptoms, you should have the mole checked out by a doctor:
■ Asymmetry - if the mole were to get folded in half it wouldn't mirror itself.
■ Border - if the mole's border is jagged, scalloped, or notched.
■ Color - if the mole is blue, pink, red, or even purple. Also, if one mole has two or more colors present.
■ Diameter - if the mole is bigger than a pencil eraser.
■ Evolving - if the mole changes size, shape, color, or appearance.
To learn more about John Wayne Cancer Foundation and its Block the Blaze program, visit http://www.johnwayne.org.
About John Wayne Cancer Foundation
Founded in 1985, the John Wayne Cancer Foundation was created in honor of John Wayne after his family promised to use his name to continue his fight against cancer. The John Wayne Cancer Foundation's mission is to bring courage, strength and grit to the fight against cancer. Fight cancer with GRIT at http://www.johnwayne.org